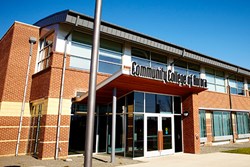 Lowry from a distance still looks like an old Air Force base, not a community college. So we want to do all we can to make it look a little more inviting.
Denver, CO (PRWEB) November 25, 2013
Two projects aimed at improving the environment and accessibility for students and visitors to the Community College of Aurora's Lowry Campus are deep in the planning process and could be completed by July, Richard Maestas, CCA's VP of Administration, said.
A Memorandum Of Understanding currently is being drafted for a joint landscaping project with the City of Aurora, led by Mayor Steve Hogan. The city has pledged $100,000 in funding that will be matched by CCA, one of the Colorado community colleges. The MOU is expected to be finalized by both sides by January, allowing the bidding process to begin.
Additionally, the company Innerface Architectural Signage Co. has been hired to conduct a signage and way finding project and is in the midst of drafting its recommendations to the Colorado Community College System for its approval. CCA is working on the project in conjunction with CCCS.
The way finding endeavor should enhance flow from existing signage along Sixth Ave. heading east towards Quebec Ave. both into and around campus.
"The major benefit we're going to have is people arriving on campus are going to receive some professional landscaping where currently there's a hodgepodge of grass and dirt. But more than that, they'll see signage and way finding that makes Lowry easier to navigate," Maestas said.
CCA previously completed Phase 1 of a wide-scale redevelopment project at Lowry in September 2011. The core of that $1.4 million project was the creation of an entryway and plaza entering West Quad, which faces Sixth Ave. and is the focal point of the campus.
The latest endeavors are a continuation of that mindset to improve the physical appearance of Lowry, while at the same time making entrance, egress and circumnavigating the campus easier for CCA students and others housed at the site.
Low-water xeriscaping will be an integral part of the design created by landscape architects. Work on both projects should begin in the spring.
"Lowry from a distance still looks like an old Air Force base, not a community college," Maestas said. "So we want to do all we can to make it look a little more inviting while also ensuring that our stakeholders are clearly instructed to their campus destination by new signage, avoiding confusion or necessitating a trip to CCA's welcome desk to obtain directions."
Community College of Aurora's $200,000 financial outlay for its portion of the signage project will be paid, in part, by its Foundation. That endeavor likely will include a new main entrance sign that denotes arrival at Lowry and names other campus tenants, including New America School, University of Northern Colorado and Community College of Denver.
There will be some intersection of the two projects, such as placing new landscaping around the entrance sign.
"An ancillary benefit to the project is that it demonstrates that the city and college can work together and fund things, which is the best way to do it, because it produces more bang for the buck," Maestas said. "Another exciting thing about strengthening the college's partnership with the city with this project is that a first step usually leads to other things; at least, that's what I'm hoping."
###
About CCA
Community College of Aurora has campuses at CentreTech and Lowry in the greater Denver area. Equipped with the latest technologies, CCA allows students to study new and traditional programs, while also offering Colorado online courses and degrees. CCA's service community spans 325,000 people in a 350-square-mile area and CCA's student population reflects that diversity. The college provides lifelong educational opportunities, prepares the current and future workforce, and promotes excellence in teaching, learning and service.