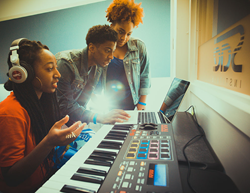 New York, NY (PRWEB) September 15, 2017
For the fifth consecutive year, the International Music Software Trade Associate (IMSTA) and SAE Institute will collaborate to bring IMSTA FESTA to New York City. This annual celebration of music technology will take place at SAE Institute's New York campus at 218 W 18th Street on September 23, 2017 from 11AM-6PM. IMSTA FESTA is a free event open to all to attend.
IMSTA FESTA welcomes songwriters, DJs, music technology professionals, semi-professionals, students, and educators who will gather for an exciting day of music production insight and discussions on legal software use. Music makers of all genres and experience levels are invited to attend and meet industry experts in an environment where they can network, interact, and learn from creative peers. Attendees can gain a well-rounded perspective on the state of the music business, access the latest music technology equipment, experience live interactive demonstrations, and participate in panel discussions
"We're proud to continue our partnership with IMSTA to host what is sure to be another exciting and successful event," says Michael Bottrill, President and General Manager, SAE Institute North America. "We applaud their leadership in educating end users, like our students and alumni, on the negative effects of software piracy in the music industry."
IMSTA FESTA NYC is a must-attend for anyone interested in the art of music making—whether you are interested in launching a music career or looking to hone your music production skills – and is set to feature:

Keynote speaker, Just Blaze, a veteran record producer and a fixture in Hip Hop music and culture
Master Class Series for attendees to gain exclusive insight on some of the most coveted new hardware and software products currently on the market, as well as tips and tricks on how to maximize the efficiency of production tools.
Professional Song Reviews from an industry expert who will offer insightful, one-on-one critiques.
The Panel Series to learn from some of the best minds in the business, such as superstar songwriter and producer Ken Lewis and mix engineer Ariel Borujow
Live demonstrations of the latest studio gear, software, and equipment from a lineup of over 30 top audio equipment and software manufacturers.
The 2017 Song Writing Competition for a chance to attend Black Rock Studio in Santorini, Greece.
Networking opportunities with innovators in the music community who will share insights and first-hand knowledge on the state of the music business, music production, technology and much more.
IMSTA FESTA NYC will take place on Saturday, September 23 from 11:00am – 6:00pm at SAE Institute New York campus, 218 West 18th Street, New York, NY 10011. Admission is free and open to the public with advanced online registration at imsta.org.
About SAE Institute
SAE Institute provides aspiring creative media professionals with a foundation of practical theory and valuable hands-on training in their chosen areas of concentration. Under the guidance of industry-experienced faculty, students gain the essential experience they need for entry-level jobs in the creative media industry. Students are supported in their job searches by SAE Institute's international network of alumni, many of who are leaders in the music, film, game arts, and live performance arenas. SAE Institute offers accredited programs in Audio, Animation, Film, Games, and Entertainment Business focused on preparing students for employment in the creative media industry upon graduation. SAE Institute Group, Inc. is a part of Navitas LTD. Learn more at usa.sae.edu.
About Navitas
Navitas is an Australian global education leader, providing pre-university and university programs, English language courses, migrant education and settlement services, creative media education, student recruitment, professional development, and corporate training services to more than 80,000 students across a network of over 120 colleges and campuses in 31 countries. Learn more at Navitas.com.