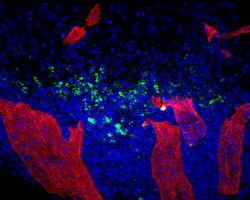 Farmington, Conn. (PRWEB) June 05, 2014
ImStem Biotechnology, Inc. (ImStem), a biotechnology company focused on the development of cell therapeutic products for tissue repair and autoimmune diseases, today announced it has successfully treated mice with multiple sclerosis (MS) using human embryonic stem cells (hESC) derived mesenchymal stem cells (MSCs), called hES-MSCs.
This research, published in the June online edition of Stem Cell Reports, the official journal of the International Society for Stem Cell Research (ISSCR), demonstrates that hES-MSCs significantly reduce the disease severity in a mouse model of MS. This research also shows that, in MS mice, hES-MSCs perform much better than adult bone marrow derived MSCs (BM-MSCs). BM-MSCs are currently being tested in MS clinical trials.
"The beauty of the new hES-MSCs is their remarkably high efficacy and consistency in the animal MS disease model," said Dr. Xiaofang Wang, lead author and chief technology officer of ImStem. "Now that we have demonstrated the superiority of this new type of cells, we are looking forward to getting this product into FDA approval for clinical trials to benefit patients."
"These great advantages perfectly match the requirements for pipeline production and quality control of clinical-grade MSCs as a potential therapy for autoimmune diseases such as multiple sclerosis, inflammatory bowel disease and rheumatoid arthritis," said Dr. Ren-He Xu, senior author of the article, chief scientific officer of ImStem, former director of University of Connecticut Health Center (UCHC) Stem Cell Core and professor at University of Macau.
"Connecticut's investment in stem cells, especially human embryonic stem cells, continues to position our state as a leader in biomedical research," said Governor Dannel P. Malloy. "This new study move us one step closer to a stem cell based clinical product which could improve people's lives."
The research, conducted in collaboration with UCHC and Advanced Cell Technology, Inc., began in 2012. UCHC professors Dr. Joel Pachter and Dr. Stephen Crocker also collaborated on this project. In 2013 the State of Connecticut Stem Cell Research Program awarded a disease-oriented collaboration grant of US $1.13M to ImStem. In 2013, ImStem was also awarded a $150,000 pre-seed fund from Connecticut Innovations. With the support of the state's programs, ImStem has improved the hES-MSC technology with better efficacy and safety and has developed clinical grade hES-MSCs manufactured in its cGMP facility. ImStem will be seeking regulatory permission to initiate Phase I clinical trials for its hES-MSCs in the near future.
About ImStem
ImStem Biotechnology, Inc. is a biotech company developing human embryonic stem cell based therapeutic products for tissue regeneration and autoimmune diseases. For more information, please contact Xiaofang Wang at admin(at)imstem(dot)com or 860.281.7836. For more information, please visit: http://www.imstem.com.