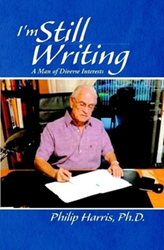 BOCA RATON, Fla. (PRWEB) August 27, 2015
Inspired by his wife's autobiography, "I'm Still Singing," author Philip Harris wanted to contribute his own story. His new book, "I'm Still Writing: A Man of Diverse Interests" (published by Lulu), covers the many interests Harris has developed as a senior citizen.
The chapters are divided into Harris's unique interests. The five chapters are "Arbitration," "Gilbert & Sullivan," "Punditry," "Bird Lore" and "Navy League."
The first chapter details Harris's time working as an arbitrator to resolve legal issues. "Gilbert & Sullivan" describes his love for the duo of the same name known for the comic operas "H.M.S. Pinafore" and "The Pirates of Penzance." In "Punditry," Harris presents a series of profiles of celebrities as a puzzle with their names scrambled at the end. "Bird Lore" includes pictures and descriptions of the birds that have captured Harris' attention over the years. Finally, "Navy League" describes the club Harris belongs to because of his service in the U.S. Navy.
"The book proves that retirement can lead to fulfilling, productive activity," Harris says.
Harris hopes that his book will teach readers that even in retirement, life can still be exciting – especially if one is a person of diverse interests.
"I'm Still Writing"
By Philip Harris, Ph.D.
Hardcover | 6 x 9 in | 88 pages | ISBN 9781483423272
Softcover | 6 x 9 in | 88 pages | ISBN 9781483419152
E-Book | 88 pages | ISBN 9781483419169
About the Author
Philip Harris lives and writes in Boca Raton, Florida.
Lulu empowers people of all ages to explore and express their interests, passions and expertise through books, photography and art. Since introducing self-publishing in 2002, Lulu has empowered creators in more than 225 countries and territories to produce nearly two million publications. Lulu Jr. allows children to become published authors, encouraging creativity, strengthening literacy and building self-esteem. Picture.com offers professional photography of collegiate and professional sports, memorable and historic events, fine art and home décor. For more information, please visit lulu.com.