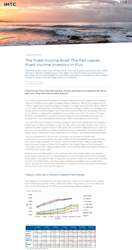 As a portfolio manager, this is the email I needed each week to effectively track trends in the fixed income markets.
NEW YORK (PRWEB) September 16, 2020
IMTC is proud to launch a new market summary specifically for fixed income investors, The Fixed Income Brief. This weekly newsletter provides key insights for buy-side bond managers in an easy-to-digest format at the beginning of each week. The email subscription provides a high-level overview of the economy and changes in spreads, yields, and ratings. Sign up here to subscribe to this free email.
"As a portfolio manager, this is the email I needed each week to effectively track trends in the fixed income markets," reported Kevin Bliss, Senior Product Manager at IMTC.
The Fixed Income Brief was developed by two fixed income industry experts, Kevin Bliss and Patrick Duffner. By parsing through the extensive data that the IMTC platform offers, the team aggregates the most relevant and insightful analytics, statistics, and charts for bond investors. Duffner and Bliss track week-over-week trends and deltas, including:

Treasury, agency, investment grade, high yield, and muni yields
Bond spreads and historical analysis by rating and sector
CDX and iTraxx spreads and historical analysis
S&P rating changes
Macroeconomic events and indicators affecting the fixed income market
Duffner, Senior Sales Lead at IMTC, states, "We saw a lack in the market of aggregated insights that are so necessary for fixed income investors. Information overload is a problem; we make it quick and easy to see the deltas in the bond market."
This new service is available for free. Anyone who would like to subscribe to The Fixed Income Brief can submit their corporate email. Additionally, the weekly posts are accessible via IMTC website's News & Insights section.
About IMTC
IMTC is a technology company that provides innovative solutions for fixed income professionals. IMTC's investment management software, NOVA, seamlessly connects people, processes, and data to streamline fixed income investment workflows, empowering quicker and more accurate decision making to drive performance and, ultimately, growth. The NOVA platform is designed to fit for purpose so that firms can create strategic alignment, enhance precise investment decisions, and ensure overall efficiency. IMTC has a global presence, with headquarters in New York City and Copenhagen, Denmark.
For more information, visit http://www.imtc.com or follow us on Twitter and LinkedIn.
Press Contact
Sara Haas
Head of Marketing
sha@imtc.com
+1.908.672.7483