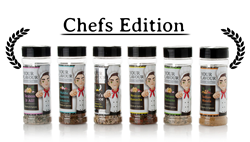 Anyone can cook with Your Flavour say's Ace Ehsan
Melbourne Victoria (PRWEB) November 11, 2014
Your Flavour shows Australia and the world seasonings matter!
Healthy cooking champion and Your Flavour chef, Ace Ehsan from Melbourne, Australia has drawn $12k in sales in the first two days since the global launch of his unique range of natural, healthy seasonings.
The launch, on November 07, 2014 of Your Flavour's ecommerce website, attracted an exciting 1000 unique visitors in its first 2 days, creating sale of 230 Orders. Sales tallied 40% from Australia, 25% U.S.A and 35% from other countries around the world.
Strong Seo and Creating an Ad words campaign that is converting at a profitable rate has resulted in amazing sales via Website
Authentically hand-crafted, ground fresh daily, Your Flavour seasonings are only available direct online.
Feedback from a recent customer:
"We weren't expecting much from Your Flavour at first but to my surprise, they exceeded our expectations. Now, my mum and I cook with Your Flavour seasonings every day. My mum LOVES pasta with marinara sauce and Italiano Perfecto is perfect for it. The seasoning selections are very healthy and most importantly are vegan, 100% gluten free, msg free and non gmo. Plus they're hand-ground every day, so are really fresh. Go to yourflavour.com seasonings and grab a combo pack for the kitchen. You won't regret it."
About the Chef
Ace first began making his unique seasonings in early 2014, after being repeatedly disappointed by the lack of genuinely healthy seasonings available in stores. Ace decided to put his own blends together and the word spread – Your Flavour went live!
Commenting on Your Flavour's amazing debut success, chef Ace says:
"Your Flavour's popularity is testament to the fact that people all over the world are hungry for delicious natural seasonings that reflect healthy choices. With Your Flavour, anyone can cook!"
Ace Ehsan is available for interviews.
High resolution photos are available.