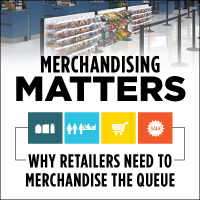 The key for retailers is to understand the pitfalls and best practices in order to maximize the potential of this often ignored retail space
Valencia, CA (PRWEB) March 06, 2014
Lavi Industries, a leading manufacturer of queue management systems for retailers, released its latest infographic, Merchandising Matters. The infographic illustrates how retailers can use in-line merchandising strategies as a way to boost customer satisfaction while simultaneously increasing impulse sales.
To start, the infographic depicts customer satisfaction in relation to actual and perceived wait times, suggesting if a customer's time is spent browsing merchandise in the queue customers will be distracted from the wait and satisfaction levels will effectively increase. Shoppers will not only perceive the wait time to be shorter, they'll also have the opportunity to contribute to the 65% of retail sales that are driven by impulse shopping.
Designed to help retailers understand the various components of in-queue merchandising, the infographic describes the mechanics of merchandising displays and the benefits provided to both customers and retailers, including an increased profit per square foot, greater impulse sales, occupied customers, a decrease in perceived wait times, and increased customer flow.
Next, the infographic shows retailers the steps to planning for their in-queue merchandising displays such as determining the space and formation, using belts and merchandise racks, creating merchandising displays, marking the entrance and finally making it scalable. It concludes with a list of best practices and mistakes to avoid to help retailers efficiently grasp the necessary concepts that go into utilizing successful in-queue merchandising.
"Merchandising in the checkout line is an important way to increase last-minute sales and keep shoppers waiting happily," remarks Perry Kuklin, Director of Marketing for Lavi Industries. "The key for retailers is to understand the pitfalls and best practices in order to maximize the potential of this often ignored retail space."
To view the infographic, visit http://www2.lavi.com/merchandising-matters.
Bloggers and other writers are encouraged to share and publish the infographic using the embed code provided.
About Lavi Industries
Based in Valencia, California, Lavi Industries is the premier provider of public guidance, crowd control solutions, and queue management systems in North America. Leveraging its portfolio of world-class brands – Beltrac® stanchions, Directrac® signage systems, Qtrac® electronic queuing systems, and NeXtrac® in-line merchandising systems – Lavi has helped the world's leading companies effectively guide people in, through, and out of their facilities. More information is available at http://www.lavi.com/.