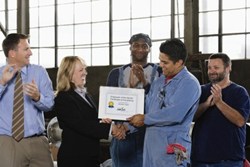 Therapists create their own notes with click and tap technology that's compatible with the iPad for convenience and portability.
Denville, NJ (PRWEB) July 21, 2013
"One of the most important things to remember when selecting an EMR is to choose one designed for a therapy practice," said Chhoda. "Most are one-size-fits-all systems designed for physicians and hospitals that leave no room for the specialization needed by PTs."
Invented by husband and wife team, Nitin Chhoda and Ritika Gulrajani, PT, DPT, the In Touch EMR was built and designed especially for PT practices. A well-known physical therapists and fitness expert, Gulrajani and Chhoda designed the system with the functionalities most needed in a therapy clinic, and it includes multiple customization options to fit seamlessly into the practice's normal workflow.
The no cost trial of In Touch EMR provides practice owners with the opportunity to try before they buy and get a feel for what 21st century physical therapy documentation technology can do. The 30-day trial comes complete with Therapy Newsletter software, and an unlimited number of users and clinics can be added.
Unlimited faxing and 50 free appointment reminders are included in the no cost trial, along with premium phone support. For those who choose to retain the system at the end of the trial, reasonably priced upgraded options are available. The first user and clinic remains at no cost as long as therapists use the EMR.
The web-based physical therapy software system is compatible with multiple browsers and requires no on-site servers. There's no software to install with in-the-cloud computing. Secure HIPAA-compliant record keeping can be accomplished quickly with the included swipe and glide documentation ability.
"You can swipe and glide your notes on a tablet computer like an iPad," said Chhoda. "Our program is geared for physical therapy clinics, and occupational therapy and speech therapy practitioners, as well."
Practice owners have the ability to create and send customized notations, and numerous distribution options for billing, patient reminders and consultations with colleagues. Therapists create their own notes with click and tap technology that's compatible with the iPad for convenience and portability. Therapy-based templates are included or therapists can generate their own. Fax and emails can be sent while using the documentation capabilities and it can create and send PDF documents.
Chhoda noted that a compelling reason for implementing In Touch EMR is the savings in time and money. On average, savings amount to $4,000 per year, per therapist. The system contains Clinical Timer to monitor when therapists check in and out for greater control over productivity. In Touch EMR identifies the most productive staff members, where physical therapy management staff can be scheduled for better efficiency and if clinics are overstaffed.
The In Touch EMR is easy to use and designed to reduce the time needed for staff to become proficient with the technology. The documentation process is addressed at all levels, from patient portals and regulatory changes, to office visits and billing. Information and records are available from any location equipped with an Internet connection.
Designed by a physical therapist with first-hand knowledge of the requirements demanded by therapists, Chhoda's no cost trial of the In Touch EMR allows practitioners in a variety of fields to experience the difference an EMR will make in their clinics. In Touch EMR reduces the time needed by staff to learn the system, while providing therapists with innovative documentation and distribution options for the modern, 21st century practice.
Chhoda's office can be reached by phone at 201-535-4475. For more information, visit the website at http://www.emrnews.com.
About Nitin Chhoda
Nitin Chhoda PT, DPT is a licensed physical therapist, a certified strength and conditioning specialist and an entrepreneur. He is the author of "Physical Therapy Marketing For The New Economy" and "Marketing for Physical Therapy Clinics" and is a prolific speaker, writer and creator of products and systems to streamline medical billing and coding, electronic medical records, health care practice management and marketing to increase referrals. He has been featured in numerous industry magazines, major radio and broadcast media, and is the founder of Referral Ignition training systems and the annual Private Practice Summit. Chhoda speaks extensively throughout the U.S., Canada and Asia. He is also the creator of the Therapy Newsletter and Clinical Contact, both web-based services to help private practices improve communication with patients, delivery better quality of care and boost patient retention.