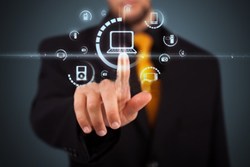 Clinic owners can use the EMR's capabilities as an intelligence tool to track a wide variety of variables and trends, from the efficacy of physical therapy marketing campaigns to staff members who may be wasting time.
Denville, NJ (PRWEB) August 15, 2013
"In Touch EMR provides practice owners with the tools needed to monitor marketing campaigns, identify the most productive staff members, and locate where referrals are originating," said Chhoda. "The tools in the latest physical therapy software system In Touch EMR can tell you if you're overstaffed, track expenses and the effectiveness of marketing campaigns."
Developed by noted physical therapist and fitness expert, Ritika Gulrajani, PT, DPT, the 30-day trial features 50 no-cost appointment reminders, unlimited faxing and premium phone support. Unlimited users and clinics can be added during the trial period and the first user and clinic is always without charge. Compatible with the iPad, In Touch EMR is the first documentation system for physical therapists with an exclusive app for the mobile device. Reminders are completely automated for convenience.
Chhoda noted that the popular marketing software, Therapy Newsletter, is also included in the trial. The done-for-you system provides users with the ability to produce eBooks and newsletters that can be delivered online, by fax, through the mail and via email. Material can also be printed for distribution.
Therapists can look at their profit and revenue figures, but they don't tell the whole story about the health of their business. In Touch EMR provides metrics that give an in-depth look at the overall performance of a practice. Clinic owners can use the EMR's capabilities as an intelligence tool to track a wide variety of variables and trends, from the efficacy of physical therapy marketing campaigns to staff members who may be wasting time.
Every business must acquire new customers to grow and thrive. The metrics of In Touch EMR can be used to determine the cost of acquiring new patients and if specific marketing campaigns are performing as anticipated. The system provides therapists with the information they need to ascertain what demographics must be targeted for longevity with patients.
One of the goals of a physical therapy practice is to develop long-term relationships with clients for repeat patients and having an effective physical therapy documentation and software can greatly help. Every business experiences fluctuations in patient numbers, and In Touch EMR assists practice owners to determine why. Therapists can easily discover if the churn rate is due to dissatisfaction with services, less than stellar customer service, or some other factor of which the clinician is unaware.
For practice owners that derive their income from multiple sources, In Touch EMR can help therapists identify trends and changes within their local area and the industry as a whole. The EMR provides the tools to track patient spending habits, number of visits per person, where new referrals are being generated and the best paying third-party providers.
Chhoda's no-cost trial of the In Touch EMR allows therapists to experience the power and efficiency of an EMR developed by and for therapists. The software is appropriate for physical therapists, occupational therapists and speech clinicians. It's the only EMR with an iPad app for portability and offers access anywhere an Internet connection is available. In Touch EMR offers a wide range of functionalities, allowing therapists to monitor the health, performance and profitability of their clinic.
Chhoda's office can be reached by phone at 201-535-4475. For more information, visit the website at http://www.emrnews.com.
About Nitin Chhoda
Nitin Chhoda PT, DPT is a licensed physical therapist, a certified strength and conditioning specialist and an entrepreneur. He is the author of "Physical Therapy Marketing For The New Economy" and "Marketing for Physical Therapy Clinics" and is a prolific speaker, writer and creator of products and systems to streamline medical billing and coding, electronic medical records, health care practice management and marketing to increase referrals. He has been featured in numerous industry magazines, major radio and broadcast media, and is the founder of Referral Ignition training systems and the annual Private Practice Summit. Chhoda speaks extensively throughout the U.S., Canada and Asia. He is also the creator of the Therapy Newsletter and Clinical Contact, both web-based services to help private practices improve communication with patients, delivery better quality of care and boost patient retention.