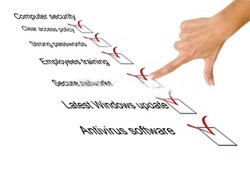 The portability of the physical therapy EMR enables therapists to work from a number of venues to offer additional services at spas, senior centers and corporate programs.
Denville, NJ (PRWEB) August 26, 2013
"The web-based EMR software maintains records in the cloud that can be updated instantly," said Nitin Chhoda, physical therapist and marketing expert. "I'm providing therapists with a no-cost 30-day trial of In Touch EMR to help them transition to a powerful system developed by and for physical therapists."
Chhoda has long been a champion of software systems that streamlines the clinical process, increases practice profitability and provides an enhanced level of patient care. Created by the respected physical therapist and fitness expert, Ritika Gulrajani, PT, DPT, the In Touch EMR is the only web-based EMR software that integrates scheduling, billing and documentation at no charge for the first user in the first clinic.
Appropriate for physical therapists, occupational therapists and speech clinicians, In Touch EMR, http://www.intouchemr.com/, is compatible with the iPad and works with any Internet browser. The system was built as an app in the Apple App Store, making it the first EMR in the world with an exclusive iPad app. A variety of affordable plans are available, all of which come with a five-step training video to reduce the learning curve and have clinics up and running in 30 minutes.
Therapists can update records instantly on multiple occasions as new treatments are prescribed. Patient information, prescriptions and testing can be accessed by a wide array of providers to collaborate on the best course of treatment. Avoiding duplication of costly testing and procedures saves time that can be better spent addressing patient needs.
Chhoda noted that the In Touch EMR is Medicare- and HIPAA-compliant, and can be accessed from a wide variety of locales. The portability of the physical therapy EMR enables therapists to work from a number of venues to offer additional services at spas, senior centers and corporate programs.
Gathering patient information, ensuring the proper forms are completed and scheduling patient visits account for a significant amount of time. In Touch EMR features a secure patient portal where clients can request appointments and provide essential health and insurance information. Clinic owners can familiarize themselves with patient histories prior to the office visit and verify insurance information for a more efficient clinic.
Chhoda's 30-day trial of In Touch EMR features unlimited faxing, 50 appointment reminders without charge, and premium phone support. An unlimited number of users and clinics can be added during the trial period and the first user and clinic is always at no cost. Numerous types of patient reminders can be created and delivered automatically. The trial includes the popular Therapy Newsletter software, to create eBooks and newsletters for delivery online, by fax, via email and printed for distribution by mail or in the office.
The In Touch EMR offered by Chhoda provides therapists with 21st century documentation abilities, along with scheduling functionalities to enhance the efficiency of any practice. Developed by and for therapists, the system offers a superior level of documentation and security, with forms that can be customized by practice owners to meet the changing needs of an extensive variety of clinics.
Chhoda's office can be reached by phone at 201-535-4475. For more information, visit the website at http://www.emrnews.com.
About Nitin Chhoda
Nitin Chhoda PT, DPT is a licensed physical therapist, a certified strength and conditioning specialist and an entrepreneur. He is the author of "Physical Therapy Marketing For The New Economy" and "Marketing for Physical Therapy Clinics" and is a prolific speaker, writer and creator of products and systems to streamline medical billing and coding, electronic medical records, health care practice management and marketing to increase referrals. He has been featured in numerous industry magazines, major radio and broadcast media, and is the founder of Referral Ignition training systems and the annual Private Practice Summit. Chhoda speaks extensively throughout the U.S., Canada and Asia. He is also the creator of the Therapy Newsletter and Clinical Contact, both web-based services to help private practices improve communication with patients, delivery better quality of care and boost patient retention.