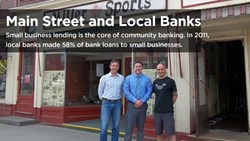 'We want to show viewers the struggles of community banks as well as their successes.' - the In View series production team
Boca Raton (PRWEB) October 15, 2013
According to recent reports, a number of community banks have faced difficulties in complying with regulations passed in the wake of the 2008 financial crisis, and some have struggled to repay the bailout funds they accepted back in 2008. Though the importance of community banks in providing financial resources to communities, particularly in rural and suburban areas, has become more apparent in recent years, some say that financial regulations and the terms of the bailouts that the banks accepted have hamstrung community banks across the country. The In View Series, a cable TV series featuring a team of creative producers, will continue to highlight the successes of community banks across the country and the important roles they play in communities from coast to coast. The series (561-279-3550) will look at steps that steps that community banks have taken to improve their balance sheets and flourish despite the challenging economic climate.
The production team of the In View TV series has identified many intriguing stories about community banks and small financial institutions across the country. Associate producers for the In View show like Rachel Van Drake, Diane Shandler, Andrew Wohl and Seth Goldberg have brought viewers stories about community banks in Louisiana, Iowa, New York, Alabama, Virginia, Kansas, Alaska and other states across America. In View hosted by Larry King (855-446-8439) has shown viewers how community banks largely differ from commercial banks.
Producers of the In View series hosted by Larry King, such as associate producers Karla Sullivan, Hema Krishan, David Kent and Courtney Lovejoy and senior associate producer Joel Walters, also find noteworthy stories about medical advances and other health subjects, as well as stories about education, technology, business and the environment.