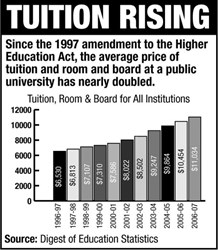 The cost of college is an issue that impacts families nationwide. We want to highlight what some schools have done to lower this cost - an In View series producer.
Boca Raton, FL (PRWEB) January 19, 2014
Many commentators have called higher education very important to upward mobility in American society, but the rising cost of a college education has made it very difficult for many students to afford to go college. With more attention focused on this problem, producers of the In View series hosted by Larry King, an enlightening cable program that reaches TV audiences across America, announced this afternoon that they will look for institutions of higher education that have made significant strides to make courses more affordable, and will share these institutions' stories in a series planned for later this year. The In View series with Larry King brings viewers encouraging features about business, technology, the environment, education, technology and other subjects. Show producers like associate producer Karla Sullivan, associate producer Rachel Van Drake, senior associate producer Joel Walters, associate producer Diane Shandler and associate producer Derrick Milhous discover intriguing stories of progress, advancement, success, innovation and achievement across society.
The In View Larry King producer crew discovers positive stories about professionals across society, corporations, schools, medical facilities, businesses and other subjects to present on the In View series (561-279-3550). In View show producers such as associate producer Courtney Lovejoy, associate producer John Patrick, associate producer David Kent and associate producer Brian Cahill speak with education leaders, corporate leaders, elected officials and business leaders across the country to identify stories to present on In View hosted by Larry King.
Look for reports about efforts to make college education more affordable on the In View TV series (855-446-8439) later this year.