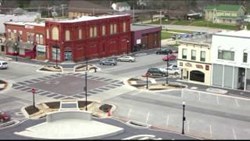 We want to spotlight places across the country that are taking proactive steps to promote economic growth - an In View series producer.
Boca Raton, FL (PRWEB) January 14, 2014
With the economy still struggling to regain its footing, many municipalities and cities have faced financial struggles. Some, however, have enacted bold policies and programs to entice businesses to relocate and improve the economic environment within their jurisdictions. Today, producers for the In View series said they will look for cities, towns, communities and counties across the United States and Canada to feature in a planned series about economic development. The In View series hosted by Larry King presents encouraging stories about industries, entrepreneurs, companies, cities, hospitals, corporations and many other subjects to TV viewers across the U.S. The In View Larry King producer team, including individuals such as associate producer Diane Shandler, associate producer Courtney Lovejoy, associate producer Brian Cahill, associate producer David Kent and associate producer John Patrick, will try to find stories about economic growth and revitalization that cities, towns and counties have stimulated with pro-growth and pro-business policies and strategies.
In View hosted by Larry King (855-446-8439) spotlights positive stories of progress, achievement, prosperity, innovation and advancement throughout Canada and America. Producers for the In View show (561-279-3550) speak with business executives, municipal leaders, business leaders and elected officials across the country to learn about trends, success stories and achievements. Producers of the In View TV series such as associate producer Derrick Milhous, associate producer Karla Sullivan, senior associate producer Joel Walters and associate producer Rachel Van Drake find interesting and uplifting stories across the business world to showcase on the TV program, along with stories about the environment, education, medicine and technology.