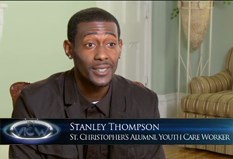 We want to feature stories of education success - an In View series producer
Boca Raton, FL (PRWEB) October 11, 2013
Sadly, many kids today fall through the cracks in America's education system, but the In View series hosted by Larry King (561-279-3550) has launched a new series on schools that cater to underserved students and communities. Associate producers and producers of the series, which runs on cable TV outlets like the Discovery Channel, have announced plans for a new series about these schools. Producers such as associate producer Karla Sullivan, associate producer David Kent, associate producer Rachel Van Drake, associate producer Courtney Lovejoy and associate producer Diane Shandler will search for private and public educational institutes, including charter schools, which are doing their part to give America's youth the skills and knowledge that they will need for future success.
Earlier this week, the production team of In View hosted by Larry King added a video about St. Christopher's to the series' official YouTube Channel. The school, founded in 1881 caters to at-risk students that many educators and people have given up on, such as students with learning disabilities, emotional problems and behavioral issues. The school's dedicated staff helps these troubled teens find themselves and reach their true potential. The school boasts a graduation rate in excess of 80 percent.
The producers of the In View TV series, including associate producer Hema Krishan, senior associate producer Joel Walters, associate producer Seth Goldberg and associate producer Andrew Wohl, seek out upbeat stories across American society. In recent weeks the In View show's YouTube Channel has added segments about military veterans, community banks, environmental topics and medical subjects.
To learn more about the In View series, please visit the TV program's official website and its YouTube Channel.