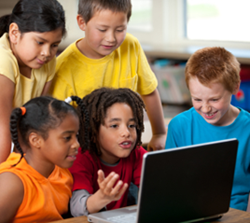 We want to show viewers some of the neat programs, helping kids learn today - an In View series producer.
(PRWEB) November 22, 2013
In this technology age, education has rapidly evolved. Young people today have grown up in a world of technology, and feel very comfortable around computers, laptops, tablets and smartphones. Some companies have partnered with educators to develop software programs that teach students skills and lessons in innovative ways. Hoping for a spring debut, the producers of the In View series (561-279-3550) announced today that they will try to put together a series about some of the innovative software programs and tools that companies have developed to aid teachers and educators, and help students learn reading, writing, arithmetic and other subjects.
In View with Larry King (855-446-8439) features a highly experienced and creative team of producers and associate producers who locate intriguing and noteworthy stories across the United States and Canada to feature on the program, which is distributed to TV viewers across America on cable outlets such as the Discovery Channel. In View show producers like associate producer Derrick Milhous, associate producer Karla Sullivan, senior associate producer Joel Walters, associate producer Rachel Van Drake, associate producer Courtney Lovejoy and associate producer David Kent speak with leaders across the country and across society to identify intriguing trends, noteworthy developments, encouraging advances and stories of achievement, progress and innovation.
The In View Larry King producer team brainstorms and follows happenings throughout the American economy to bring the show's viewers across the country pertinent and relevant stories. The producers for the In View series hosted by Larry King include associate producer Diane Shandler, associate producer Brian Cahill, associate producer Seth Goldberger, associate producer Judi Marcus and associate producer John Patrick.
The producers of In View hosted by Larry King hope to showcase several leading education technology companies in the near future. Check the official website of the In View TV series learn more about upcoming airings and film shoots.