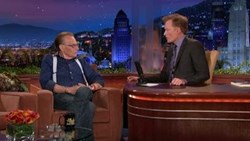 It's exciting to see our show featured on other outlets. - an In View series producer
Boca Raton, FL (PRWEB) October 31, 2013
The In View series, an enlightening television program distributed on cable channels, including the Discovery Channel, across the United States, recently gained some press on an emerging celebrity blog. The blog, Star Glayre (http://starglayre.com), looks at celebrities and celebrity culture in this day and age of media saturation, and explores the influence, both positive and negative, that celebs can have on society. The blog looks at numerous facets of pop culture, including music, television and movies. Star Glayre features stories about TV programs, musicians, books, movies, celebrities, reality television and more.
In View hosted by Larry King presents educational programming about the military, health care, education, environmental subjects, technology, business and other areas of society and topics of interest. Producers of the In View show (855-446-8439) like senior associate producer Joel Walters, associate producer Rachel Van Drake, associate producer David Kent, associate producer Karla Sullivan and others identify upbeat and noteworthy stories about service organizations, retirement communities, medical facilities, corporations, schools, medical professionals and other subjects to present on the show.
Producers of the In View TV series (561-279-3550) also search for examples of innovations, breakthroughs and advances across American society. Series producers such as associate producer Diane Shandler, associate producer Seth Goldberg and associate producer Courtney Lovejoy have identified numerous examples of ways in which companies and industries across the American economy have modified their practices and procedures to improve efficiencies, lower their costs and improve the quality of the goods and services they offer to the public. Series producers find interesting stories across America and Canada.