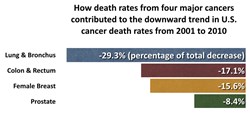 We like to highlight positive medical news. As cancer touches so many of our lives, this is a great topic for our show - an In View series producer
Boca Raton, FL (PRWEB) January 08, 2014
The American Cancer Society reported this week that death rates for many forms of cancer continue to decline. In reports later this year, the In View series, an educational TV program carried on the Discovery Channel among other outlets, will explore some of the reasons for this continued progress in the treatment of cancer, producers for the show announced today. The In View TV series features upbeat segments about many different subjects, including medical topics. The series has showcased numerous stories about medical advances, including stories about advances in the diagnosis and treatment of various diseases, including forms of cancer. Producers for the show like associate producer Karla Sullivan, associate producer Brian Cahill, associate producer Rachel Van Drake and senior associate producer Joel Walters search for encouraging developments, trends, anecdotes and happenings to feature on the show, looking throughout the United States and Canada.
For the coming series about advances in the treatment of cancer, the In View Larry King producer group will speak with medical professionals, doctors, oncologists, patients and administrators to learn more about improvements in diagnosing cancer, treating cancer and recovering from cancer that have helped to lower cancer mortality rates. In View show producers like associate producer John Patrick, associate producer David Kent, associate producer Derrick Milhous, associate producer Courtney Lovejoy and associate producer Diane Shandler will find stories about how leading cancer specialists and cancer facilities have made advances in treating blood cancers like leukemia, breast cancer, colon cancer, prostate cancer and other forms of the disease.
The In View series hosted by Larry King (855-446-8439) reaches TV audiences across America. The TV program's video clips also reach audiences around the world via the internet. Check the official website of In View hosted by Larry King (561-279-3550) to learn more about the TV program and find out when it will next air.