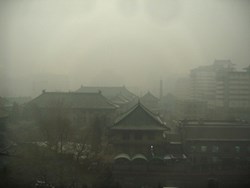 We want to inform viewers about what industries and communities are doing to address pollution - an In View series producer.
Boca Raton, FL (PRWEB) January 22, 2014
Newly released research shows a correlation between air pollution and higher rates of heart attacks and other health problems. The issue of air pollution as a health risk has become more prominent recently as concerns grow about the dangerous levels of air pollution in Beijing, China. Research indicates that air pollution from China drifts across the Pacific Ocean and further dirties the air in the Western United States. The In View series hosted by Larry King, an educational TV program distributed across America, has looked at efforts to curb air pollution in places like Utah, and will further review anti-pollution efforts, producers for the series announced this morning. The TV program's producer group, led by senior associate producer Joel Walters, also includes dedicated and creative individuals like associate producer Karla Sullivan, associate producer Derrick Milhous, associate producer Diane Shandler and associate producer John Patrick.
The In View series with Larry King has presented a number of stories about environmental topics, among many other topics covered on the In View show, which reaches audiences across the country on channels like the Discovery Channel. Last year, the In View series showed viewers how a coalition of municipal leaders, business leaders and environmental advocates banded together to address alarming levels of air pollution in Utah. The Utah Clean Cities initiative involved raising public awareness about the detrimental effects of idling by drivers on the state's air quality, as well as efforts by businesses in the area to conserve fuel.
The In View Larry King producer team discovers intriguing stories about communities, corporations, medical facilities and educational institutions nationwide to showcase on In View hosted by Larry King (561-279-3550). The In View TV series (855-446-8439) features stories about business matters, technology, education, health care, banking, the environment, the military and other subjects. Producers for the program like associate producer Brian Cahill, associate producer Rachel Van Drake, associate producer Courtney Lovejoy and associate producer David Kent look for examples of ingenuity, achievement, innovation, advancement and success throughout the U.S. and Canada.