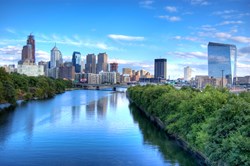 We think the Empowering Investors series will offer viewers valuable information - an In View series producer.
Boca Raton, FL (PRWEB) November 25, 2013
The production team of the In View series (561-279-3550), an educational cable television program distributed to TV audiences across the country, today announced an upcoming video shoot in Philadelphia and King of Prussia, Pa. The show's producers include a number of creative minds who find intriguing stories about a diverse collection of subjects. Members of the In View Larry King producer team includes associate producer Courtney Lovejoy, associate producer Seth Goldberger, associate producer David Kent, associate producer Diane Shandler, associate producer Derrick Milhous and associate producer Rachel Van Drake. Tomorrow's taping will concentrate on investing, investments and investors. The TV program features informative content about subjects that affect consumers, businesses and families across America.
Show producers like associate producer Karla Sullivan, senior associate producer Joel Walters, associate producer Judi Marcus, associate producer John Patrick and associate producer Brian Cahill find intriguing stories all across Canada and America to feature on the In View TV series (855-446-8439). The In View series hosted by Larry King spotlights notable and successful companies, cities and organizations across the nation. The In View show also profiles leading medical practices, hospitals, doctors and specialists across the health care industry. In View hosted by Larry King presents stories about schools, universities, colleges, financial institutions and other subjects. Visit the official homepage of the show to learn more.
The turbulence and weakness of the economy has made many people across America worry about their long-term financial security. Many people who have lost money in the stock market do not know where to invest their money. The In View series will bring viewers insights from knowledgeable and successful investors.