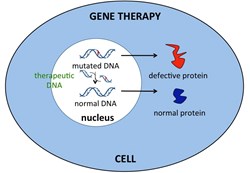 This new treatment offers great hope for patients, and we want to highlight how it helps patients with blood cancers and other health problems. - an In View series producer
Boca Raton, FL (PRWEB) December 09, 2013
Gene therapy shows great promise for treating leukemia and other blood cancers. The production team of the In View series, a cable television program hosted by broadcasting legend Larry King, announced today that it will look into this promising medical treatment. The In View series hosted by Larry King (561-279-3550) spotlights positive stories from the worlds of business, science, education, medicine, technology and other areas. Series producers such as associate producer Brian Cahill, associate producer Courtney Lovejoy, associate producer Karla Sullivan, associate producer John Patrick, associate producer Derrick Milhous and associate producer Diane Shandler look for great examples of business achievement, ingenuity, progress and advancement throughout the U.S. and Canada to present on the program.
The In View TV series showcases leading companies, entities and professionals in many fields, sectors and industries. Producers of In View hosted by Larry King (855-446-8439) like associate producer Judi Marcus, associate producer David Kent, senior associate producer Joel Walters, associate producer Rachel Van Drake and associate producer Seth Goldberger identify individuals, groups and firms that have distinguished themselves with innovations and achievements, and share their stories with television audiences across the country. Most recently, the show reached TV audiences across America on the Discovery Channel.
The In View Larry King producer team has found stories about medical facilities and medical specialists that lead the way in the treatment of numerous medical conditions and diseases. For example, last year the program showcased a leading cancer institute in California that treats leukemia patients. The TV program has also reviewed advances in ophthalmology, cardiology and orthopedic medicine.