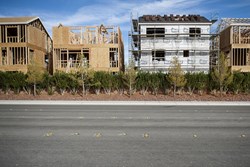 We look forward to bringing viewers upbeat stories about the rebound of the housing industry. - an In View series producer
Boca Raton, FL (PRWEB) December 19, 2013
The Commerce Department announced yesterday that housing starts in November soared to their highest levels since February 2008. Producers for the TV program In View hosted by Larry King, which is carried on cable channels and networks, including the Discovery Channel, announced yesterday that they will seek out stories relating to the rebound in housing, and how strength in this part of the economy could bolster other industries and fields. Producers for In View TV series (561-279-3550), such as associate producer Rachel Van Drake, associate producer Courtney Lovejoy, associate producer Derrick Milhous, associate producer David Kent and associate producer John Patrick, will speak with home builders and economists across the country about the housing rebound and how it could affect the economy.
Producers for the In View series identify intriguing and noteworthy stories throughout the American economy and across American society. Led by senior associate producer Joel Walters, the In View Larry King producer group seeks out fascinating stories throughout the business world, as well as in health care, education, energy, finance and other areas of society. Producers like associate producer Karla Sullivan, associate producer Diane Shandler and associate producer Brian Cahill also identify significant environmental stories and environmental subjects to feature on the In View show (855-446-8439).
The In View series hosted by Larry King reaches Internet users around the world and television audiences across the United States on cable TV outlets like the Discovery Channel. The In View TV series aired yesterday morning on the Discovery Channel at 7:00 EST and PST.