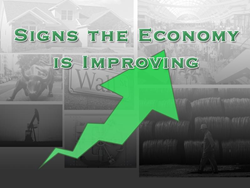 The economy is looking up. We want to feature stories about thriving companies and the improving economic outlook. - an In View series producer
Boca Raton, FL (PRWEB) January 07, 2014
With more signs indicating that the economy has strengthened, producers for the In View series hosted by Larry King (855-446-8439), an educational series carried on major cable channels, announced plans to spotlight more corporations and small businesses across the American economy that have expanded their operations. Following years of sluggish growth, the TV program will look at how leaders in many industries have adapted to survive and ultimately thrive as the economy has picked up again. A report this week indicates that business bankruptcies fell considerably last year. The economy posted its highest growth in years in the third quarter of 2013, according to data released by the government last month. Producers for the In View series like associate producer Karla Sullivan, associate producer David Kent, associate producer Courtney Lovejoy, associate producer Derrick Milhous and associate producer Diane Shandler hope to feature leaders in numerous fields and industries that have emerged from the economic downturn, and share their stories with TV viewers across the United States.
In View hosted by Larry King (561-279-3550) highlights intriguing and encouraging stories of achievement, innovation and advancement in various parts of American society. The In View Larry King producer group uncovers fascinating stories across America and Canada. Producers for the TV program like senior associate producer Joel Walters, associate producer John Patrick, associate producer Rachel Van Drake and associate producer Brian Cahill look for noteworthy corporations, schools, medical professionals, business leaders, organizations, medical facilities and other subjects to showcase on the In View TV series. Follow the latest news about the TV program online and on social media sites such as the show's official Facebook fan page.
The In View show has a dynamic online presence with a network of blogs, its official website, its official YouTube channel and pages on many social networking sites, including Twitter.