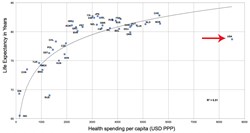 This data is shocking. We want to find stories that show improvement. - an In View series producer
Boca Raton, FL (PRWEB) November 23, 2013
In data published today by Bloomberg, America's per capita spending on healthcare outranks every other country in the world, yet the life expectancy of American citizens falls below most other developed countries. The data reveals a huge disconnect health care spending and health care results. In America, regarded as one of the richest and most advanced countries in the world, people live shorter lives than almost every European country, even though the country spends far more on health care. Today, producers of the In View series (855-446-8439), an enlightening cable television program that reaches TV audiences across America, announced plans for a new series, focused on improving the quality of health care and people's overall health. The In View Larry King producer team, led by senior associate producer Joel Walters, also includes production professionals like associate producer David Kent, associate producer John Patrick, associate producer Diane Shandler, associate producer Courtney Lovejoy, associate producer Seth Goldberger and associate producer Rachel Van Drake. These individuals and other members of the show's production team will look for stories about Americans living longer and healthier lives.
The In View series hosted by Larry King features positive programming about many different developments, trends and happenings across American society. Show producers such as associate producer Karla Sullivan, associate producer Judi Marcus, associate producer Brian Cahill and associate producer Derrick Milhous find fascinating stories about health subjects, medical advances, business success, innovation, technology, education, the military, the environment and many other topics.
In View hosted by Larry King (561-279-3550) airs on cable TV channels, including the Discovery Channel, reaching millions of TV households across the nation each month. Please visit the official website of the In View TV series to find out when the In View show will next air.