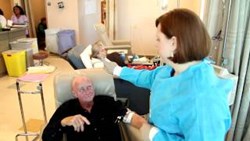 We like to feature examples of progress in the treatment of diseases. - an In View series producer.
Boca Raton, FL (PRWEB) January 21, 2014
As companies develop better and more effective diagnostic medical technologies and researchers and scientists learn more about disease patterns and the causes of various diseases, medical professionals have made strides in treating diseases and health conditions and helping patients lead healthier lives. Earlier diagnoses of many diseases have led to lower mortality rates for many diseases including types of cancer. A report today suggests that vitamin D could help to slow the progression of multiple sclerosis (MS). Producers for the In View series hosted by Larry King (561-279-3550) said today they will plan to highlight promising research such as this and successes in the fights against various health conditions and diseases in airings later this year.
Producers for the In View show, featuring host Larry King, look across society and throughout America and Canada for upbeat developments, happenings and trends to showcase on the TV program, which reaches TV audiences across the country. In View series producers such as associate producer Rachel Van Drake, associate producer Diane Shandler, associate producer Courtney Lovejoy, associate producer Brian Cahill and associate producer John Patrick uncover intriguing stories, innovations and breakthroughs to spotlight on the In View series with Larry King.
In View hosted by Larry King (855-446-8439), which runs on cable networks and channels like the Discovery Channel, features informative programming that looks into stories in various segments of society. Producers of the In View series including associate producer Karla Sullivan, senior associate producer Joel Walters, associate producer Derrick Milhous, associate producer David Kent and other members of the In View Larry King producer group find corporations, medical professionals, medical facilities, organizations and other subjects to feature on the program.
Visit the Official In View Series blog to learn more about this educational TV program.