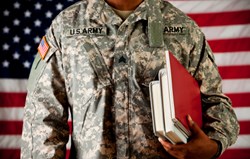 'We want to continue honoring our men and women in uniform by showcasing their academic successes.' - an In View series producer
(PRWEB) November 27, 2013
With thousands of military veterans, reentering civilian life and tens of thousands more set to join their ranks in coming years, many will use their G.I. benefits to pursue higher education and earn college degrees. Today, producers of the In View Series (855-446-8439), an educational TV program that reviews a wide range of stories and subjects across American society, announce plans for a report about the college degree programs and careers that military veterans pursue after leaving the military.
Earlier this month, the In View TV series featured a number of stories about military veterans and military families and airing on the Discovery Channel. Please visit the Official In View hosted by Larry King website for more details about show airings and the television program.
The production team of the In View series hosted by Larry King identifies and locates fascinating stories about many different topics all across the United States and Canada. Led by senior associate producer Joel Walters, the team includes valuable show producers like associate producer Karla Sullivan, associate producer Courtney Lovejoy, associate producer John Patrick, associate producer David Kent, associate producer Diane Shandler, associate producer Rachel Van Drake and associate producer Seth Goldberger. Other members of the In View Larry King producer team include associate producer Judi Marcus, associate producer Brian Cahill and associate producer Derrick Milhous. In View show producers look for intriguing stories about universities, colleges, medical facilities, corporations, charities and many other subjects. The producer team for In View hosted by Larry King (561-279-3550) also keeps fans of the show and viewers informed about upcoming events and news about the show through social media. Follow In View hosted by Larry King on Twitter, Facebook and other social networking sites.