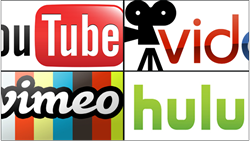 Online video websites help our program reach even more viewers. The online video market continues to expand. - an In View series producer
Boca Raton, FL (PRWEB) October 27, 2013
Although they significantly trail YouTube in terms of numbers of visitors, a growing number of sites now allow users to share videos and view videos online. Many people enjoy watching videos online, and the success of YouTube clearly supports this concept. In efforts to reach as many internet users as possible, producers of the In View series have announced their intentions to post videos on more video-sharing sites. The In View show has had considerable success with its YouTube channel, with some videos on the channel gaining tens of thousands of views. With its new channels on Vimeo and Metacafe, the show's production team hopes to reach even more viewers and share more of its stories of achievement, success and progress.
Highlighting interesting and encouraging stories from across the country, the show's production team uncovers stories about schools, businesses, corporations, charities and non-profit groups and hospitals, medical facilities, doctors and other medical professionals, among other subjects. The program's new video channels and its official YouTube channel give the show's producers, like senior associate producer Joel Walters, associate producer Karla Sullivan, associate producer David Kent, associate producer Diane Shandler, associate producer Seth Goldberg and associate producer Rachel Van Drake to distribute the show's programming to more viewers. To learn more about the show, click here to visit the official home page.
The In View series hosted by Larry King features illuminating content about many different areas of American life. Show producers, including associate producer Andrew Wohl, associate producer Hema Krishan and associate producer Courtney Lovejoy, explore stories about the environment, healthcare, education, technology, business, the military and other subjects.