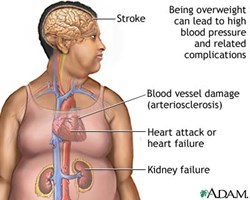 Obesity affects huge portions of the population, so we think that many people will find these reports relevant. - an In View series producer
Boca Raton, FL (PRWEB) December 03, 2013
A new report published today in the Annals of Internal Medicine calls so-called healthy obesity a myth, and says that obese people remain at higher risk of strokes, heart attacks and premature death even in the absence of diabetes, high blood pressure and other metabolic issues. As we enter the holiday season, a time when many people pack on the pounds, the production team behind the In View series, an informative series distributed to TV audiences across America, announces plans to bring viewers stories about the health risks of obesity and weight-loss strategies. The program will look into treatments for obesity and associated health conditions.
Producers of the In View series hosted by Larry King, including associate producer Derrick Milhous, senior associate producer Joel Walters, associate producer Courtney Lovejoy, associate producer John Patrick and associate producer Diane Shandler, seek out timely and relevant stories about a wide assortment of topics, developments and trends across society. In View hosted by Larry King (855-446-8439), which has aired multiple times on the Discovery Channel in recent months, reaches large numbers of TV viewers across the country, informing them about medical subjects, environmental topics, business matters, education developments and more.
The In View Larry King producer team identifies encouraging stories about medical treatments and other health-related topics throughout the United States and Canada. Show producers like associate producer Karla Sullivan, associate producer Judi Marcus, associate producer Rachel Van Drake, associate producer Brian Cahill, associate producer Seth Goldberger and associate producer David Kent find stories about innovative and leading medical professionals across the health care industry. The In View TV series (561-279-3550) has showcased leaders in many medical specialties, including ophthalmology, cardiology and pain management. The In View show spotlights new treatments and procedures that have helped patients overcome health problems and lead healthier lives.