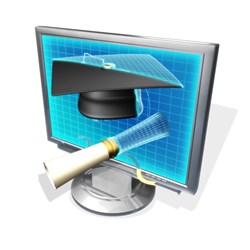 We want to look at how online education is used across the country and across the educational spectrum. - an In View series producer
Boca Raton, FL (PRWEB) October 30, 2013
From elementary schools to higher education, online education has become a growing part of curricula. At various levels of education, online instruction helps to reinforce lessons taught in the classroom or lecture hall and help students improve their retention of knowledge. The producers of the In View series hosted by Larry King, an educational series that reviews a wide assortment of subjects across U.S. life, have announced plans to feature online education in coming reports.
Some have questioned the value of online education and online courses, wondering if they can truly match the value of classroom learning. Many colleges and universities across the country have made online courses a central component of their degree programs. Producers of the In View series (561-279-3550), including associate producers David Kent, Hema Krishan and Karla Sullivan and senior associate producer Joel Walters, will look for stories that show how schools and educators across the country at various levels have used online learning to supplement traditional educational methods. In View show producers such as associate producers Rachel Van Drake, Courtney Lovejoy, Andrew Wohl, Diane Shandler and Seth Goldberg will also seek out stories about companies in the growing online education industry, highlighting how companies, including those founded by former educators, help students learn through interactive programs.
The In View TV series (855-446-8439) runs on major cable networks and cable channels across the United States, reaching millions of television viewers and TV households and informing them about business subjects, medical topics, education stories, environmental topics and more. To watch some of In View hosted by Larry King's programming, please visit the program's official YouTube channel.