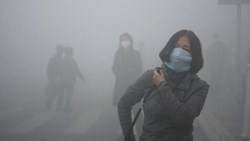 We want to feature efforts in the public and private sectors to reduce pollution. - an In View series producer
Boca Raton, FL (PRWEB) October 21, 2013
Air pollution and smog pose definitive health hazards for people around the world. The World Health Organization (WHO) recently declared that dirty air contributes to millions of premature deaths across the globe. In China today, the city of Harbin, a city of 11 million people, shut down because of dangerously high levels of particulate matter in the air, with smog so dense that it reduced visibility and closed the airport and schools. Across the United States, municipal and state governments have taken action to combat smog and air pollution, and many companies have acted to reduce the amount of pollution they produce. The producers of the In View series (855-446-8439) today announced that they hope to feature more stories about ways in which governments, industries and companies are combating air pollution.
Show producers such as associate producers Diane Shandler, Rachel Van Drake, Andrew Wohl and Hema Krishan identify intriguing stories across American society to feature on In View hosted by Larry King, a cable television program that has run on the Discovery Channel, Bravo, CNBC and other cable outlets. In recent months, the In View TV series (561-279-3550) highlighted "Utah Clean Cities," a coalition of cities that aims to reduce air pollution by promoting reduced consumption of fossil fuels and promoting alternative fuels that produce less pollution. The In View show looked at how the coalition has improved Utah's air quality, such as encouraging drivers to reduce idling. Consumers and businesses have saved millions of dollars in fuel costs and reduced their air pollution emissions by huge amounts. The coalition has also promoted hybrid vehicles and more eco-friendly public transportation vehicles.
The production team of the In View series hosted by Larry King finds encouraging stories about many subjects across the U.S. and Canada. Senior associate producer Joel Walters and associate producers Courtney Lovejoy, Seth Goldberg, Karla Sullivan and David Kent identify stories about health subjects, medical advances, education topics, technology subjects, environmental topics and much more.