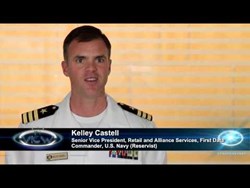 Veterans Day is a perfect time to feature programming about veterans and the military - an In View series associate producer
Boca Raton, FL (PRWEB) November 01, 2013
The production team of the In View series announced this week that the In View show (855-446-8439) will next air on the Discovery Channel on the morning of Monday, November 11th at 7:00 a.m. EDT and 7:00 a.m. PDT. Airing on the morning of Veterans Day, the In View TV series will present stories about military veterans. Series producers such as associate producer David Kent, associate producer Seth Goldberg, senior associate producer Joel Walters and associate producer Karla Sullivan have put together a number of stories about companies that cater to the needs of service members and military families, along with stories about companies that actively recruit military veterans for jobs within their organizations. David Kent took the lead in putting together this airing.
The In View series hosted by Larry King, which reaches television audiences across the United States and internet users worldwide, presents stories about innovations, trends, advances, medical facilities, universities, schools and leading professionals and companies across the United States and Canada. Members of the show's production team, like associate producer Rachel Van Drake, associate producer Diane Shandler and associate producer Courtney Lovejoy uncover noteworthy environmental stories, health stories, education stories, business stories, technology stories, medical stories and more.
In View hosted by Larry King (561-279-3550) has featured illuminating series and segments about many matters that impact people, businesses and organizations across the U.S. The series has highlighted the challenges facing independent banks, community banks and credit unions as legislators have strengthened financial regulations in recent years. It has spotlighted how smaller banks and financial institutions help consumers and small businesses across the country.