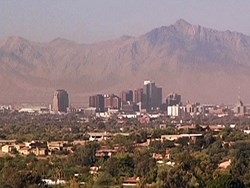 We look forward to going back to Phoenix, one of America's most dynamic cities. - an In View series producer
Boca Raton, FL (PRWEB) December 10, 2013
Today, the production team of In View hosted by Larry King, an enlightening and upbeat cable TV program, announced plans for another film shoot, this time in Arizona. Producers of the In View show, a program distributed to tens of millions of households, announced that they will travel to Phoenix, Ariz. for an upcoming shoot focusing on medical subjects. On January 8th, members of the production team will travel to the Valley of the Sun to film a story about medical professionals who offer a high level of care for patients. The experienced production crew of the In View TV series (855-446-8439) includes associate producer Brian Cahill, associate producer Diane Shandler, senior associate producer Joel Walters, associate producer Karla Sullivan and associate producer Rachel Van Drake.
The In View Larry King producer team identifies intriguing and encouraging stories across the health care industry, as well as in other industries and areas of American society. Producers of the In View series like associate producer John Patrick, associate producer Derrick Milhous, associate producer David Kent, associate producer Judi Marcus, associate producer Courtney Lovejoy and associate producer Seth Goldberger find examples of noteworthy schools, colleges and universities, praiseworthy medical facilities and hospitals, successful companies, entrepreneurs and professionals in different lines of work and other cases of achievement, progress and ingenuity throughout America and Canada.
The In View series hosted by Larry King (561-279-3550) reaches millions of people on TV outlets like the Discovery Channel and online on its network of blogs and social media accounts.