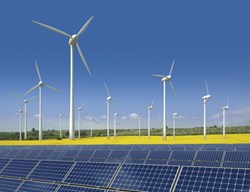 We want to spotlight the growing use of renewable energy by utilities across the country. - the In View series production team
Boca Raton, FL (PRWEB) November 02, 2013
Each year, utilities increasingly rely on sources like hydroelectric power, nuclear energy, wind energy and solar energy to meet the energy needs of consumers and businesses across the country. Whereas in years past, nearly all of the energy that electric utilities provided to consumers came from fossil fuels, a definitive shift has taken place in where this energy comes from. The producers of the In View series (855-446-8439), a cable television program hosted by broadcasting legend Larry King, have announced plans to continue spotlighting public utilities and private utilities across the country that use an array of energy sources to provide businesses and consumers with electric power.
The energy demands of modern society continue to grow not only here in the United States, but increasingly in foreign countries like China and India as well. The demand for fossil fuels has gone up significantly, driving up the costs of fuels like oil, coal and natural gas. To keep the cost of the energy they provide reasonable and affordable, utilities have adapted their strategies and made use of numerous energy sources. The In View series hosted by Larry King (561-279-3550) has looked at how utilities reduce their carbon footprints by tapping alternative energy sources.
In View hosted by Larry King spotlights encouraging stories in all areas of society. The In View show's producers like associate producers Karla Sullivan, David Kent and Rachel Van Drake locate positive examples of innovation, achievement and progress throughout America and Canada. Senior associate producer Joel Walters and associate producers like Courtney Lovejoy, Seth Goldberg and Diane Shandler identify stories about energy, education, medicine, technology and other topics to feature on the In View TV series.