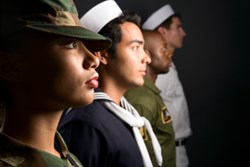 We want to shine a light on companies and organizations that help America's heroes transition back to civilian life. - In View producer
Boca Raton, FL (PRWEB) September 27, 2013
With tens of thousands of active-duty service members set to return to civilian life in coming years, the producers of the In View series, an educational TV series, have spotlighted companies and organizations that help military veterans return to civilian life. The In View series hosted by Larry King (855-446-8439) is distributed to television audiences across the United States on the cable channels like the Discovery Channel and cable networks. The In View series has profiled companies that provides service members and their families with affordable housing, as well as a company that helps service members find employment when they leave military service. The In View show has featured companies owned and operated by military veterans, as well as organizations and companies that help veterans.
The In View series hosted by Larry King (561-279-3550) also focuses on advances in health care that benefit America's wounded warriors and the population at large. The In View TV series has profiled companies that produce medical equipment, including cutting-edge orthotic devices and prosthetic limbs that help people with mobility issues as well as amputees. The series has also highlighted advances in the treatment of conditions and diseases that affect America's aging population.
In View features one of the most respected and decorated figures in the history of broadcasting and television. Host Larry King has worked in broadcasting since the 1950s, starting his career as a radio host in Miami, before landing an opportunity to host a nationally-broadcast radio show in the 1970s. He hosted a nightly cable television show for 25 years.