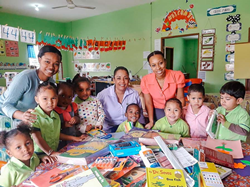 It's always so touching to see the kindness of our guests and the gratitude of the children who benefit from it
SAN IGNACIO, Belize (PRWEB) February 07, 2019
This year's first delivery of donated school supplies to three rural Belizean primary schools shows how sustainable tourism and responsible travel can benefit local communities, according to The Lodge at Chaa Creek.
Denise Duran, the popular Belizean eco-resort's public relations officer, said Chaa Creek's "Pack-a-Pound" initiative kicked off the new year by distributing some 125 pounds of school supplies donated by guests in the last months of 2018.
"It's always so touching to see the kindness of our guests and the gratitude of the children who benefit from it,"" Ms Duran said.
Pack-A-Pound, a long-running program under the resort's Chaa Creek Cares initiative, encourages guests to add a pound or more of school supplies to their luggage, or post a package before leaving or after arriving home.
Ms Duran and her team then work with local educators to distribute those donations to Belizean schools and students with the greatest needs.
This year's Pack-a-Pound effort kicked off on January 21, 2019, with Chaa Creek's volunteers visiting three primary schools in some of Belize's more rural communities with boxes filled with crayons, paper, pens, glue, arts and crafts materials, calculators, colouring and story books, and other learning resources, Ms Duran explained.
"In these more remote communities, people place a high value on their children's education, but money for anything beyond the basic necessities can be hard to come by. Things like colouring books, crayons, or a new book bag encourages young students to learn, and can make a big difference in their education.
"To see how excited these kids are when we arrive, and then the huge smiles when they open their boxes, really shows how much Pack-a-Pound means to them," Ms Duran said.
The program also benefits the guests who participate in it, she added.
"People who participate in Pack-a-Pound invariably comment on how it adds to their Belize vacation. Fostering understanding and creating bonds between visitors and local people is one of the goals of true sustainable tourism, and that can give vacations deeper meaning and satisfaction.
Lucy Fleming, who with her husband Mick founded Chaa Creek, agrees.
"Bringing visitors and local people together in ways that support their communities, while at the same time making vacations richer and more rewarding, is one of the many benefits of sustainable tourism, and one of the reasons why so many of today's travellers are embracing responsible travel.
"As someone once said, doing good feels good, and that can be a very satisfying part of travel," Ms Fleming said.
Denise Duran said she and her team also find plenty of satisfaction in the program.
"Bouncing down a long dusty, bumpy road and then being greeted by so many exited kids always feels great. And having a teacher say, 'your visit today made a huge difference in our children's lives,' as you're leaving is the best reward you could ask for.
"We're already organising a new round of donations, and can't wait to make the next delivery to schools," she said.
Mr Duran said people can learn more about Pack-a-Pound, and how the Chaa Creek Cares initiative directs ten percent of all accommodation revenue into environmental and community projects, by speaking with their travel agents or Chaa Creek directly.
"Guests say they sleep even better knowing that one out of every ten dollars they spend on their lodgings goes to support the land and people of Belize. That says a lot about today's travellers," she added.
The Lodge at Chaa Creek is a multi-award winning eco resort set within a 400-acre private nature reserve along the banks of the Macal River in Belize. It was recognised by National Geographic with first place honours at the 2017 World Legacy Awards held in Berlin.