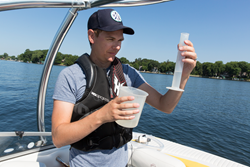 ORONO, Minn. (PRWEB) July 25, 2018
A longtime and respected Lake Minnetonka marina owner announced today that a small team's tireless campaign to change how the pleasure boating industry looks at the threat of aquatic invasive species is starting to pay off.
Gabriel Jabbour, whose Tonka Bay Marina has served as a shoreline laboratory of sorts, was notified that U.S. boat manufacturers and conservation officials have agreed to make the strongest of recommendations on how crafts are designed to limit the spread of invasive species from one body of water to another.
Known as AIS, nonnative invaders such as zebra mussels and other species are a continuing threat to the quality of fishing and other recreational boating on waterways in Minnesota and many other states.
Jabbour, who participated with others in confronting AIS, said the influential American Boat and Yacht Council (ABYC) will by the end of the month publish new technical guidance on boat design meant to curtail the transport of AIS by craft as they leave one body of water and launch into another.
These design changes include:

Raising the hull, giving the boat a self-draining aspect while still in the water.
Placing the jet intake on the boat's exterior, allowing it to be flushed more effectively hot water and making the process faster and less difficult.
Create a "closed" engine cooling system. A side benefit is winterizing at season's end would be quicker and less expensive.
Key participants in this mission to adjust boat designs for the benefit of industry, regulators and the public include Adam Doll of the Minnesota Department of Natural Resources (DNR), global AIS expert Mike Hoff and Minnesota Gov. Mark Dayton.
Jabbour and collaborators have for the past several years been involved in organizing and attending meetings all across the country, luring in stakeholders in pursuit of this vital piece of the puzzle toward fending off AIS.
"When we have a flu going around, the attitude is first to ask everyone to wash their hands," Jabbour said. "Then, we seize on the idea that we could do minor design changes on boats and realize a profound benefit."
Tonka Bay Marina handles more than 1,000 boats a season for physical and mechanical upkeep, launching and winterizing. Each encounter has and continues to provide crucial analytical data in how AIS infiltrates watercraft.
Brian Goodwin, technical director for the authoritative ABYC, said that forging a consensus behind the boat redesign recommendations "was a big accomplishment. The biggest fact is that we can help the industry – in particular, the boat and engine manufacturers – design or retrofit their products to help reduce the spread of AIS by lowering the amount of water residue on a boat once it leaves a lake or river."
Multiple boat builders have been on board for sometime, including industry leaders Brunswick and Minnesota-based Lund. Both are among those that supported research into what parts of a craft are most susceptible to transporting AIS.
"The whole industry is going to share these new standards and hopefully subscribe to them," said John Deurr, design engineer for Premier Pontoons in Wyoming, Minn.
"Our company has already been doing them, they're common sense and not that expensive," Deurr said. "Until now, we've kept these changes to ourselves as a marketing tool, but now we want to share them with everybody."
Doll, the DNR's watercraft inspection program coordinator, said a two-day AIS Summit in Las Vegas 3 ½ years ago proved to be an awakening in making stakeholders from across the nation realize a coordinated assault on this nagging threat was overdue.
The summit "really focused on what those in the industry can and should do about invasive species from a design perspective and information they can provide their customers," said Doll, who has worked on University of Minnesota-based research conducted at Tonka Bay Marina that identified where on boats invasive species are most troublesome.
Doll said ABYC's adoption of the revised design recommendations "is a huge first step, but I don't think we are done by any means. Still, it's a groundbreaking step in the right direction."
Hoff, the AIS global expert who is now retired from the U.S. Fish and Wildlife Service, remembers hearing from Jabbour five or six years ago at the marina what he what he had in mind.
"After five minutes, I stepped aside and made my call to D.C. and said we've got to move forward with something in the area of boat design," Hoff said. "It's extraordinary to think there was no activity in this area. What the ABYC is about to distribute this month is in my mind a game-changer."
Hoff believes the new specifications could well play a major role in keeping the fuse from being lit on what he calls the "ticking time bomb" known as AIS.
"There are millions of boats that are transported from one body of water to another," he said. "Each boat has some water in it, and almost certainly some have a lot of water."
**Attention Reporters & Editors – All of the experts and newsmakers quoted in this release are available for interviews. To make coordinating and scheduling easy and hassle free – contact publicist Robb Leer 612.701.0608 or email robbl(at)leercommunication.com
# # #