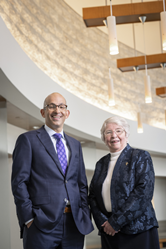 BALTIMORE (PRWEB) January 11, 2023
Dr. David N. Maine, President and CEO of Mercy Health Services, Mercy Medical Center, and Sister Helen Amos, RSM, Executive Chair, Mercy Board of Trustees, are the guests for the hospital's ongoing talk show series, "Medoscopy," airing on Facebook Watch, Mon-Tues., Jan. 30th and 31st at 5:30 p.m. EST (http://www.facebook.com/MercyMedicalCenter).
A 30-minute pre-taped program that explores the background and lives of Mercy clinicians, patients and others, Medoscopy was launched in spring 2021 and airs in two 15-minute segments.
In this latest installment, Dr. Maine and Sister Helen discuss their education and backgrounds, how they came to Mercy, and established leadership roles with the nearly 150-year-old Catholic hospital.
Dr. Maine noted how he was born the son of Jewish-Iraqi refugees who fled Iraq for Europe in 1972 due to the ongoing persecution of the religious minority. With the assistance of the Hebrew Immigrant Aid Society, an international refugee aid organization, Dr. Maine's family eventually immigrated to the United States, settling in Rochester, NY, where Dr. Maine became a fan of the Rochester Red Wings, the Baltimore Orioles Triple-A affiliate for many years.
Sister Helen noted her days in education before coming to Baltimore, working as a teacher in Georgia. Sister Helen took a position as Registrar for Mount Saint Agnes College where she had earned her degree in Mathematics in 1962. She served as Mercy Medical Center president and CEO, 1992-1999, succeeding Sister Mary Thomas Zinkand, RSM. Thomas R. Mullen took the reins after Sister Helen and was himself succeeded by Dr. Maine in 2020.
Sister Helen noted her interest in reading, tackling crossword puzzles, though hasn't taken the Wordle challenge just yet. Dr. Maine and Sister Helen discussed their friendly rivalry regards their fan affiliations with the Buffalo Bills and Baltimore Ravens, respectively.
Medoscopy is filmed on the campus of Mercy Medical Center in downtown Baltimore with video, sound, and lighting by Zinnia Film.
Founded in 1874 by the Sisters of Mercy, Mercy Medical Center is located in downtown Baltimore City, about six blocks from Baltimore's famed Inner Harbor. A university-affiliated teaching facility, Mercy is a Catholic hospital with a national reputation for women's health care, orthopedics, and other specialties. Mercy is home to the renowned Weinberg Center for Women's Health & Medicine, and the $400+ million Mary Catherine Bunting Center. For more information, visit http://www.mdmercy.com, and MDMercyMedia on Facebook and Twitter, or call 1-800-M.D.-Mercy.