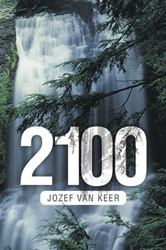 BELTON, Texas (PRWEB) June 03, 2019
Debuting author Jozef Van Keer takes readers to the future of the United States of America in the year "2100" (published by AuthorHouse), when the government is above the law and controls every part of the citizens' life.
"As a first-generation immigrant, I was dreaming about how this country, that I love so much, would look like in 2100," Van Keer shares the inspiration for the book. "I dreamed up the story about government control and corruption and spiced it with a love story." To purchase and to know more about the book, interested parties may visit https://www.authorhouse.com/Bookstore/BookDetail.aspx?BookId=SKU-001200852.
The novel is a story about life in the USA in the year 2100. A corrupt government that dictates how people live their daily lives is controlling 80 percent of the population. The other 20 percent live in ghettos or hide underground in a thriving community where they still live a life based on the principles of their founding fathers. The government calls them the illegals, and it is constantly trying to capture them to reform them into what it deems normal citizens.
A romance develops when one day, an IT programmer finds herself in a life-and-death situation and is rescued by an illegal. That is the start of a conspiracy by people on both sides to change life in the United States back to what it had been before.
Van Keer believes that today's political climate might be pushing people into a situation similar to that of the story's conflict, with more and more government control. He also deems that "2100" is a perfect example of the way the people collaborate and uses the governments' own corruption to defeat them. Although a dreamed up story, the book reflects the author's professional life experience, and the love for nature, liberty and justice.
"2100"
By Jozef Van Keer
Hardcover | 6x9 in | 426 pages | ISBN 9781546272823
Softcover | 6x9 in | 426 pages | ISBN 9781546272830
E-Book | 426 pages | ISBN 9781546272847
Available at Amazon and Barnes & Noble
About the Author
Born on post–World War II in a little town of the Flemish part of Belgium, Jozef Van Keer was exposed to art daily. His father, a writer and singer, instilled in Van Keer a love of music and poetry and a strict, conservative life. Van Keer was also a classically trained dancer and travelled Europe performing. An ambitious IT career and love brought him to the U.S. Van Keer kept writing poetry but never published any. When Van Keer retired, he took a major leap into the unknown world of writing a book. The creative mind found a way, like oil on water, to put in writing a dreamed-up story in a language that is not his native tongue.