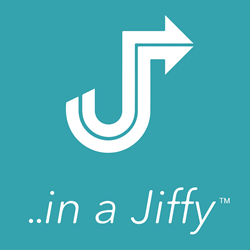 (PRWEB) April 18, 2017
"In a Jiffy™" is the Uber of a universe of services and the Amazon of products related to services. Promoters and developers came up with the app after many years of experience in the Life Cycle of Life (LCL) and frustrations in finding the right people in time for a service at home or office.
The arrival of "In a Jiffy™" will transform the online services marketplace into two categories: before "In a Jiffy™" and after "In a Jiffy™". A sneak peak of In a Jiffy™ is being launched in NYC at Techday on April 18.
Here is what the top officials of In a Jiffy™, Inc., a Delaware corporation, have to say about the app:
"In a Jiffy™ is an app that is built around a highly sophisticated engine that can scale up to include any and all the services under the universe. A seeker can request any simple to a complicated service with just two app screens (unlike the competitors, who use multiple screens in multiple formats) be it a snow removal on cubic feet basis or hourly basis, or be it seeking a massage for a couple or single person, or be it a volunteer seeking a service. In aJiffy ™ folds the functionality of all our competitive apps into one, so that seekers do not need to switch between the apps," said Krishna Vemuri, President and the Product Architect of In a Jiffy™.
"In a Jiffy™ is built in a unique way to help the Giggers (service providers), to make money by selling the products needed to deliver the service, such as the HVAC repair guy being able to quickly bill for a capacitor when he finds that it is the part that needs to be replaced, by taking instant approval from the seeker through the app," he added.
Jyoti Vazirani, the CEO, who conceptualized some of the most unique services in the app, said, "I felt the need for some services, nine years ago, when I was a working mom of one elementary school kid and one middle school kid. Surprisingly, no service-providing platform or app understands the problems of working mothers with school/daycare-going kids, even now. We filled that gap with some unique features that help working moms with school-going kids. We have defined a community around which we have built some unique services. Definitely this is the feature that everybody will embrace," citing the neighborhood services in the app. "Also we went further hyper-local to include the services within family, that really includes some of the vital functionality families like!"
"The architecture of the software is quite challenging and we are building a highly flexible system to realize the visualization of our product," said Priyadarshan Patil, CTO, In a Jiffy. He further added that "We are sure that the app is going to change AppScape of ODS apps around the world."
"We are announcing sneak peak of In a Jiffy™ at Techday on 4/18/2017 at Pier 94, 711 12th Ave, NY, NY 10019. We are planning to have a weekly raffle for all the visitors at our web http://www.inAJiffy.com. Our visitors who register at http://www.inAJiffy.com can be paid Alpha/Beta-testers, paid service evangelists, and can get the coupons to be used when the app is launched," said In a Jiffy ™ COO, Narayan Ravisetti. "'In a Jiffy™' is a privately held company, its parent company and promoters have provided seed funding and funding for launch in a city in the USA and in India. We are inviting Angels and VCs for funding the expansion and enhancement," he added.
Founded in 2017, "In A Jiffy™", a DE corporation is building the world's most innovative and Mother of All Apps for the On demand services. In a JIFFY ™was established to make a difference in the way the services are sought and rendered. The app is scheduled to launch on June 16th 2017. For more information about the product visit us at http://www.inAJiffy.com.
If you would like more information about this topic, please contact Krishna Vemuri at 732 236 8877 or email at vkrishna(at)inAJiffy(dot)com.
Contact: Krishna Vemuri
Telephone: 732 236 8877
Cell: 732 236 8877
Email: vkrishna(at)inAJiffy(dot)com
Website: http://www.inAJiffy.com