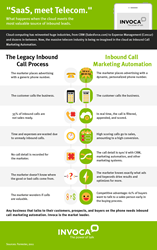 Santa Barbara, CA (PRWEB) March 19, 2014
Invoca, the leading provider of enterprise inbound call marketing technology, today announced HealthMarkets Insurance Agency has been successfully using Invoca's Inbound Call Marketing Platform to capture the data of inbound calls from consumers looking to purchase health insurance and Medicare products.
HealthMarkets, one of the largest health insurance agencies in the United States, launched its consumer brand in 2013. It offers superior services using offline, online and mobile marketing channels. By utilizing Invoca's self-serve platform and detailed analytics, HealthMarkets was able to increase in its inbound call volume -- the most valuable type of lead.
Invoca's RingPool™ technology allowed HealthMarkets to automatically populate its website and landing pages with unique telephone numbers, enabling it to track the success of its marketing campaigns and its inbound callers - all in real-time.
"When the Affordable Care Act went into effect, thousands of consumers had to shop for health insurance for the very first time. HealthMarkets anticipated that most of these customers would have questions and would pick up the phone during that process," said Eric Holmen, CMO of Invoca. "HealthMarkets was able to use our inbound call marketing technology to maximize their ability to receive inbound telephone traffic and thereby optimize their marketing dollars. This has given them an edge over their competition."
"Buying health insurance is a complicated process. Customers often need personal assistance, and the phone is a critical point of contact," said Mike Stahl, SVP Direct to Consumer, HealthMarkets. "Invoca's inbound call marketing platform has significantly helped us to launch our new call-based marketing programs as we prepared for the influx of new customers needing healthcare."
Making inbound calls a priority was critical to HealthMarkets' marketing strategy because inbound calls from consumers generally convert to actual sales at a rate of over 20 percent, compared to when consumers complete online lead forms, which generally only produce a conversion rate of about 10 percent. Using Invoca's technology, HealthMarkets was able to drive down their lead costs by 50 percent over the course of their marketing campaign, all the while exceeding their sales projections by 20 percent.
Insurers looking to learn more about modern inbound marketing can find research from Gartner and Forrester and best practice case studies at http://www.invoca.com.
About Invoca, Inc.
Invoca is the industry-leading provider of enterprise inbound call marketing solutions. The cloud-based platform delivers complete campaign management, clear attribution, practical analytics and mobile optimization tools in one easy-to-use solution, while seamlessly integrating with the solutions marketers already use. Invoca helps businesses to get better qualified, higher converting customers and optimize spend across online, offline and mobile marketing channels.
Proven revenue-generating partnerships with leading Fortune 1000 and 500 brands make Invoca the industry-leading solution for enterprise inbound call marketing. Invoca was founded in 2008 by a team of technology executives who built their prior startup into a multi-hundred million-dollar public company. Invoca is backed by leading venture capital firms Upfront Ventures and Rincon Venture Partners. For more information, please visit http://www.invoca.com.
About HealthMarkets Insurance Agency
HealthMarkets Insurance Agency, a wholly-owned indirect subsidiary of HealthMarkets, Inc., is the d/b/a or assumed name of Insphere Insurance Solutions, Inc., which is a licensed insurance agency in all 50 states and the District of Columbia. HealthMarkets offers consumers a convenient shopping experience for Medicare, health insurance and other related insurance products. HealthMarkets represents over 120 nationally-recognized insurance carriers and offers consumers the option of comparing health and Medicare plans online at HealthMarkets.com, over the phone at 800-827-9990 and face-to-face with over 3,000 dedicated local insurance agents across the country.