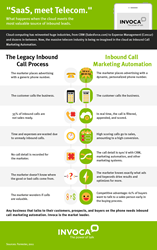 Santa Barbara, CA (PRWEB) March 11, 2014
Invoca, now the largest provider of cloud-based inbound call marketing technology, today announced it will be a silver sponsor at the SMX West conference in San Jose, California. The conference will cover search engine optimization (SEO), paid search advertising, mobile search and social media marketing tactics to boost conversions, sales and overall web site traffic. Invoca will be exhibiting in Booth #319 at the San Jose McEnery Convention Center. In addition, Invoca's Anna Jefferis will be speaking on the following topic "Integrating Offline Analytics to Calculate True Paid Search ROI" on March 12 at 11am in Theater B.
More than 3,000 marketers currently use Invoca's inbound call marketing software to generate better leads, higher conversion rates and more revenue. With Invoca's inbound call marketing platform, search marketers can track how campaigns are performing in terms of online and offline activity. Invoca attributes the keyword, campaign, and user session information that led to an inbound call, empowering marketers to make meaningful optimizations and measure true ROI.
To learn more about SMX West, visit http://searchmarketingexpo.com/west.
About Invoca
Invoca is the industry-leading provider of enterprise inbound call marketing solutions. The cloud-based platform delivers complete campaign management, clear attribution, practical analytics and mobile optimization tools in one easy-to-use solution, while seamlessly integrating with the solutions marketers already use. Invoca helps businesses to get better-qualified, higher-converting customers and optimize spend across online, offline and mobile marketing channels.
Proven revenue-generating partnerships with leading Fortune 1000 and Inc 500 brands make Invoca the industry-leading solution for enterprise inbound call marketing. Invoca was founded in 2008 by a team of technology executives who built their prior startup into a multi-hundred million-dollar public company. Invoca is backed by leading venture capital firms Accel Partners, Upfront Ventures and Rincon Venture Partners. For more information, please visit http://www.invoca.com.