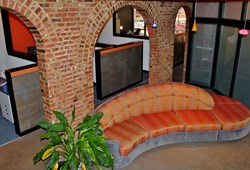 It's not every day you come across workspace that features a Harley as a piece of furniture and a scoreboard as a wall embellishment.
St. Louis, MO (PRWEB) January 27, 2014
Marketing Matters Inbound, a St. Louis-based inbound marketing firm, has recently moved to a larger office space located in the heart of Soulard. The move comes after a successful year which saw new clients, new hires and promotions within the agency.
The new location features four levels of open office space, including a full kitchen and bar in the lower level and a private penthouse level suite. The building, once a prominent church rectory, is accentuated by exposed brick arches and large windows visible from the private and semi-private offices located throughout the four levels.
The agency has added its own personal touches as well. A Harley Davidson is showcased front-and-center on a platform visible from all levels and an old scoreboard, salvaged from a local high school, is easily viewed upon first entry.
"This new space allows us to host our clients in an open, energetic setting that fosters communication and creativity. The space is also beneficial to our employees as they have access to ideation boards, more conference rooms and an open atmosphere to work," said Scott Miller, founder of Marketing Matters Inbound. "It's not every day you come across workspace that features a Harley as a piece of furniture and a scoreboard as a wall embellishment."
The large, creative space will allow for additional client meetings and continued expansion within the agency. In fact, the building is large enough to accommodate additional businesses and creative professionals. The penthouse level is available for rent and several individual private and semi-private desks throughout the building are available for freelance professionals. Month-to-month leases are available. Onsite parking and complimentary Wi-Fi is also offered to all tenants.
Additional building amenities and features include:

280 square foot dry-erase board for brainstorming sessions
Bar and casual ideation space
Formal meeting areas on all four levels
Front-facing office windows in which the Arch is visible
The new building is located at the intersection of Carroll & Menard Street. For leasing information, contact Marketing Matters Inbound at 314-442-4444.
About Marketing Matters
Marketing Matters Inbound is an industry-leading, HubSpot certified, Inbound Marketing Firm specializing in conversion website design and development, content and call-to-action strategy, and online lead conversion optimization. Marketing Matters Inbound's experience in B2B digital marketing and understanding of SEO, User Interface (UX), and Lead Conversion are unmatched. For information visit http://www.marketingmattersinbound.com/.