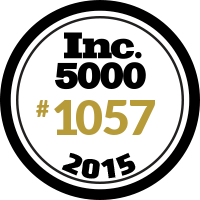 After years of focusing on delivering superior results for our clients, it is an incredible honor for Vincodo to be recognized among the fastest growing companies in the entire country.
Langhorne, PA (PRWEB) August 12, 2015
Vincodo, a Philadelphia-area digital marketing and media services agency, was named to the Inc. 5000 list today, distinguishing it as one of the fastest growing private companies in the United States. The company earned the #1057 spot on the elite rankings by achieving more than 400 percent growth over the past three years. It was also honored as the nineteenth fastest growing company in the Philadelphia area.
Headquartered in Langhorne, Pennsylvania, Vincodo achieved revenues of $3 million in 2014, in just its fourth year of operation. Rapid growth and local job creation are expected to continue from Vincodo, which recently expanded into several new media service offerings including programmatic display advertising – the fastest growing area of online advertising.
Despite its highly-competitive industry, Vincodo is one of the few full-service digital marketing agencies featured on the Inc. 5000. This is due in large part to the company's unique business model, which fosters unparalleled client retention and satisfaction rates by actually keeping expert, senior industry veterans working hands-on from start to finish for every project. In fact, the small agency has attracted a number of Fortune 1000 clients since its earliest days, all of whom are still devoted clients of the company today.
"Vincodo is so much more than just a media buying agency; they are dynamic marketing strategists who also guide our media planning," said Ben Cook, CEO of Vision Group Holdings. "Their knowledgeable team advises us how to best place each ad to contribute to our company's overall growth, and best of all, they help us understand and evaluate each dollar spent and how they all interconnect both online and offline. I would highly recommend Vincodo to any company looking to generate meaningful leads and grow their business."
Rooms To Go's Rob Crigler, VP of Digital Marketing, added: "The Vincodo team is 100% accountable, committed to delivering stellar results, and willing to work around the clock, including weekends and holidays, to do it. They are truly a unique agency that applies an unprecedented level of engagement and dedication to achieving Rooms To Go's business goals every single day."
Vincodo CEO Tim Daly said of today's news: "After years of focusing on delivering superior results for our clients, it is an incredible honor for Vincodo to be recognized among the fastest growing companies in the entire country. I am very grateful to my incredible team, our business partners and our dedicated clients for helping make our growth possible. I look forward to many more years of achievements for Vincodo, and especially for the companies we are proud to serve."
Vincodo has built a stellar reputation within its industry, and has forged strategic partnerships with top firms including leading demand-side platform The Trade Desk and marketing software platform Kenshoo.
"Agencies such as Vincodo are at the core of our platform's vision for the industry," said Brian Stempeck, Chief Client Officer at The Trade Desk. "Vincodo's ambition for introducing new companies to programmatic advertising — and utilizing its effectiveness to grow their clients' businesses — is a true testament to the power of the open marketplace. It's fantastic to see one of our preferred agencies receive this well-deserved honor, and we are proud to join them on the Inc. 5000 and to have been a part of their success along the way."
Kenshoo's Russ Finks, VP of North American Agencies added: "We are thrilled Vincodo is being recognized by Inc. Magazine as a fast growing company. Kenshoo has enjoyed a strong collaboration with Vincodo as one of our trusted agency partners delivering outstanding results for our mutual clients. As we continue to innovate and provide the best performing agile marketing platform in the industry, we look forward to many years of continued success."
Vincodo CEO Tim Daly will be formally honored by Inc. Magazine at an award ceremony in October in Orlando, Florida.
To learn more about Vincodo and its placement in the Inc. 5000, please visit: http://www.inc.com/profile/vincodo
About Vincodo
Vincodo is a boutique digital marketing strategy agency specializing in search engine marketing and optimization, PPC advertising, lead generation & conversion (online and offline), programmatic display advertising, e-commerce and merchandise sales, and more. At Vincodo, senior-level experts work hands-on with businesses to develop customized plans that ensure marketing dollars are spent as effectively as possible for optimal return on investment.
Vincodo is based in Philadelphia, but serves clients nationwide. Learn more at http://www.vincodo.com/.