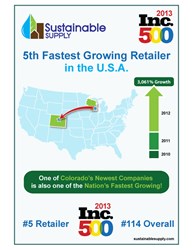 With a nationwide shift towards sustainable building management and B2B e-commerce, our company has become a leader in two very competitive and high growth industries.
Broomfield, CO (PRWEB) August 20, 2013
Sustainable Supply, an online provider of green building materials, restroom supplies and maintenance products has just been ranked as the 5th fastest growing retailer on Inc. Magazine's 2013 Inc.500|5000 list. The magazine also ranked Sustainable Supply #114 overall and the 2nd fastest growing company in Wisconsin. Founder & CEO Brian Fricano is also featured in the 2013 Inc.500 issue profiling the origins of the company. The article can be found here.
Despite a sluggish economy and a slowdown in the commercial construction marketplace, Sustainable Supply posted a staggering 3,061% growth rate over the past three years. "We are honored to make the Inc.500|5000 list in our first year of eligibility and I believe it's a testament to our focus on customer service and our ability to rapidly deploy the latest e-commerce technologies," says Brian Fricano, Founder & CEO of Sustainable Supply. "With a nationwide shift towards sustainable building management and B2B e-commerce, our company has become a leader in two very competitive and high growth industries."
One of the nation's fastest growing companies is also one of Colorado's newest companies. Started in 2009 in Milwaukee, WI, Sustainable Supply recently relocated their corporate headquarters to Broomfield Colorado in July of 2013. The small business has moved or created a total of 8 jobs in Colorado and is currently hiring to keep up with increased demand. "Our new offices located in the Arista development provides us with great access to local talent in two of the largest tech based startup communities (Boulder & Denver). Our convenient location also allows for easy public transportation options for our employees commuting along the US 36 corridor," says Brian Fricano. While the company mostly focuses on e-commerce sales in the B2B marketplace, Sustainable Supply is currently building a Green Restroom showroom in their Broomfield office that will open in early 2014. The showroom will help them connect with local contractors, building managers, and business owners who are searching for sustainable product solutions for their facilities.
For 32 years Inc. has welcomed the fastest-growing private companies in America into a very exclusive club. Simply to make it on the Inc.500 list this year, a company would need to grow more than 918% from the start of 2010. "The average company on the list grew a mind-boggling 2,900%. Those are results most businesses could only dream of in the economy of the past three years," said Eric Schurenberg, Editor in Chief of Inc. magazine. Sustainable Supply now shares a pedigree with top brands brands like Pandora, Zappos, Microsoft, Facebook, Living Social, Clif Bar, OtterBox, and Patagonia.
About Sustainable Supply
Launched in the delivery room while expecting the birth of his second child, Brian Fricano started Sustainable Supply with the modest hopes of creating some supplemental income for his stay at home wife. Four years later, Sustainable Supply has become a leading online retailer of green building materials, green cleaning products, restroom equipment, and commercial maintenance supplies for businesses and government agencies. With a burgeoning website of over 200,000 products, combined with world-class customer service, Sustainable Supply has quickly become a potent force within the green product marketplace. The company also owns and operates two successful nice websites focused on Eyewash Safety products and Portable Handwashing Sinks.
About Inc. magazine, Inc.500|5000
For over 30 years Inc. magazine has been the premier print publication for entrepreneurs and business owners. In 1982, they introduced the Inc. 500, which showcases the fastest-growing privately held companies in America. The 2013 Inc. 500|5000 is ranked according to percentage revenue growth from 2009 through 2012. To qualify, companies must have been founded and generating revenue by March 31, 2009. Additionally, they had to be based in the United States, privately held, for profit, and independent—not subsidiaries or divisions of other companies—as of December 31, 2012. (Since then, a number of companies on the list have gone public or been acquired.)
The minimum revenue required for 2009 is $100,000; the minimum for 2012 is $2 million. Revenue figures given in the company profiles are for calendar years, as are employee counts. Full-time and part-time employees are included in the employee counts; independent contractors are not.
###