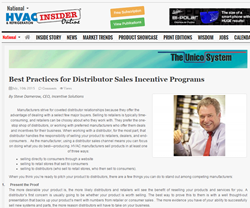 Mobile technology, has radically changed the amount of time and work it takes to deal with distributors.
(PRWEB) July 30, 2015
Steve Damerow, CEO of Atlanta-based incentive company Incentive Solutions, was recently featured in the nation's top HVAC publication, HVAC & Refrigeration Insider magazine. Damerow's piece, "Best Practices for Distributor Sales Incentive Programs," explores how HVAC manufacturers can leverage incentive programs in order to improve their relationships with distributors. They can do this, Damerow says, by taking advantage of mobile technology "made with a distributor's busy, daily networking in mind. Wherever they are, distributors can input sales claims, receive push notifications about program and promotion updates, and access the rewards catalog."
Having been in the incentive business for over 30 years and having developed a niche for business-to-business (B2B) clients, Incentive Solutions is familiar with the supply chain challenges that HVAC manufacturers face. Rather than keeping their experience to themselves, Incentive Solutions believes that sharing these industry secrets and best practices helps enable ingenuity and effective business strategies in the American marketplace.
Publications like HVAC & Refrigerator Insider magazine share the philosophy that acting as a resource helps drive commerce and improve industries. The magazine updates readers on market trends and job opportunities, as well as new products and technology. They are dedicated to keeping those in HVAC spaces informed and helping them become more successful. As the only industry resource with a national reach, the information they publish is highly reputable and widely circulated.
Incentive Solutions serves clients across multiple industries, including building/construction, HVAC, financial/insurance and transportation. They aim to continue making their experience widespread in these various realms and participate in exciting, ongoing discussions about improving business practices.
About Incentive Solutions
Incentive Solutions, Inc. was founded in 1994 and is based in Atlanta, GA. Part of The ISI Group, consisting of Incentive Solutions, Loyaltyworks, and Travel Solutions, Incentive Solutions offers online rewards, travel incentives, and debit card reward programs. Since its creation, Incentive Solutions has been an innovator in the incentive industry by utilizing emerging online technologies that help companies increase sales, engage and motivate employees, encourage customer loyalty, create positive work environments, and enrich sales channel relationships.
Incentive Solutions
1-866-567-7432
2299 Perimeter Park Drive, Suite 150
Atlanta GA 30341