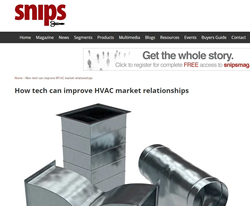 New incentive program technologies can now greatly reduce administrative burden, increasing timeliness and efficiency with data retrieval benefits previously not possible
Atlanta, Georgia (PRWEB) August 25, 2015
Atlanta incentives company, Incentive Solutions, recently released a new article aimed at ambitious decision-makers in the HVAC industry. The article, "How Tech Can Improve HVAC Market Relationships," was published in SNIPS magazine, a prominent HVAC market publication that's been in circulation for over 80 years. The purpose of the article is to educate those in the HVAC industry on how they can benefit from new trends in incentive program technology.
According to Steve Damerow, author of the article and CEO of Incentive Solutions, "New incentive program technologies can now greatly reduce administrative burden, increasing timeliness and efficiency with data retrieval benefits previously not possible." Advances such as integration with smartphone technology make the reward redemption process instantaneous and allow manufacturers to capture useful data by "facilitate[ing] two-way communication (surveys, tutorials, training), warranty registration and even instant claims validation." With these tools at their disposal to accelerate information exchange and offer instant online reward gratification, manufacturers can promote more frequent and positive interactions with supply chain partners.
Those in the HVAC industry often face challenges going to market within a complex sales channel. Information and news resources like SNIPS are useful in addressing common, industry-wide obstacles and proposing viable solutions. Incentive Solutions is happy to contribute consultative and trustworthy content for HVAC leaders who want to learn how to enhance their productivity and business strategies.
About Incentive Solutions
Incentive Solutions, Inc. was founded in 1994 and is based in Atlanta, GA. Part of The ISI Group, consisting of Incentive Solutions, Loyaltyworks, and Travel Solutions, Incentive Solutions offers online rewards, travel incentives, and debit card reward programs. Since its creation, Incentive Solutions has been an innovator in the incentive industry by utilizing emerging online technologies that help companies increase sales, engage and motivate employees, encourage customer loyalty, create positive work environments, and enrich sales channel relationships.
Incentive Solutions
1-866-567-7432
2299 Perimeter Park Drive, Suite 150
Atlanta GA 30341