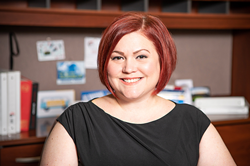 "Mandy brings an extra focus on the human element to the leadership team. She's got a ton of empathy and gives a lot of thought to how people interact. It's good to have that level of diversity on the team as to how people think." - Mark Herbert, President & CEO, Incentive Solutions
ATLANTA (PRWEB) March 27, 2019
Incentive Solutions announced that Mandy Freeman was promoted to VP of Account Management earlier this quarter, after 11 years with the company.
"Mandy brings an extra focus on the human element to the leadership team," says Incentive Solutions CEO Mark Herbert.
"She's got a ton of empathy and gives a lot of thought to how people interact. It's good to have that level of diversity on the team as to how people think."
Prior to joining Incentive Solutions, Mandy Freeman worked as a dietician in the ICU and oncology units at The Coliseum Northside Hospital in Macon and later as a donor recruitment representative for the Red Cross. She began her time at ISI in sales in 2007 before transitioning into account management. "[They] moved me over into account management and I guess the rest is history," says Mandy Freeman. "I just found my place. I found my home and found my niche and have continued to grow in my role."
That range of experience, combined with topnotch communication skills and a passion for improvement, put Mandy Freeman in a unique position. Working side-by-side with clients and the in-house tech team at Incentive Solutions, Mandy Freeman has been instrumental in many of the improvements made to RewardTrax®—Incentive Solutions' proprietary incentive software—over the years, according to the needs of her clients.
In the process, she was responsible for some of Incentive Solutions' most successful incentive programs with some of its biggest partners and helped to redefine the way account managers implement and maintain strategic incentive programs at ISI.
"I think we've seen a lot of growth from Mandy these past few years," says Mark Herbert. "She's really been able to challenge herself and to look at challenges more as opportunities than something to shy away from."
Incentive Solutions continues to benefit from Mandy Freeman's unusual combination of technical expertise when it comes to channel sales and incentive strategy and her passionate understanding of human nature. Today, Mandy Freeman manages the account management team at Incentive Solutions, which oversees over 220 accounts across various industries. In addition, she performs program reviews for larger clients and helps plan the BthruB Summit.
"I think you're always learning to be a better individual. A better peer. A better leader," says Mandy Freeman.
When asked about her success, Mandy is quick to credit the people she works with: "I've had a really great support system here. I've had awesome mentors. They've always challenged me to be better. As a result, they continue to get better versions of me. I've always been driven, but so much of my success, I think, has been because of the people I've been surrounded by, who really took a vested interest in my growth."
About Incentive Solutions
Incentive Solutions, Inc., founded in 1994 and based in Atlanta, GA, offers online rewards, travel incentives, and gift card rewards. From the beginning, ISI has focused on delivering more than just reward fulfillment, setting out to innovate the incentive industry by utilizing and developing emerging online technologies. Acting as valued partner and trusted advisor to clients, ISI helps organizations increase sales, motivate employees, build customer loyalty, create positive work environments, and improve channel sales relationships. For more information, visit http://www.incentivesolutions.com.