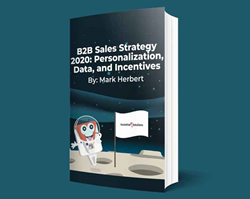 "...we aim to provide insight, data, and actionable steps for making the transition not only possible, but enjoyable for your channel partners, all while enhancing profit for your business." Mark Herbert, President & CEO, Incentive Solutions
ATLANTA (PRWEB) July 28, 2020
Incentive Solutions, an award-winning incentive company dedicated to growing businesses in the B2B sector, has released a new e-book. B2B Sales Strategy 2020, authored by President and CEO Mark Herbert, takes industry professionals through the changes occurring in today's channel landscape, and offers marketing and sales strategy through the help of incentive technology.
Channel partner data collection, personalized marketing, and sales incentives are just the tip of the software iceberg when it comes to helping B2B companies achieve differentiation in an oversaturated market. In this e-book, sales and marketing professionals can find:

An overview of both channel trends as well as disruptors that manufacturers and distributors are facing;
An in-depth dive into today's largest target market demographic;
B2B marketing strategies for personalizing the buyer's journey;
An example of a successful channel incentive program as part of a modern, competitive B2B sales strategy; and
Important incentive program data markers and technological capabilities that every channel incentive program should have.
"Regardless of where your business falls today in terms of its digital capabilities, it is never too late to revisit your sales strategy," writes Mark Herbert. "With the help of this e-book and our 25+ years of knowledge in the incentive industry, we aim to provide insight, data, and actionable steps for making the transition not only possible, but enjoyable for your channel partners, all while enhancing profit for your business."
To download a free copy of the B2B Sales Strategy 2020 E-book, please visit:
https://www.incentivesolutions.com/b2b-sales-strategy-ebook/
About Incentive Solutions
Founded in Atlanta, GA in 1994, Incentive Solutions is on a mission: "To inspire growth – for our clients and our employees." A leader in the incentive technology development space, Incentive Solutions uses millions of exciting online rewards, incentive travel promotions, gift card incentives, and innovative platforms to help manufacturers and distributors increase sales, capture mindshare, build customer loyalty, and improve data collection throughout their channel. For more information, visit http://www.incentivesolutions.com.