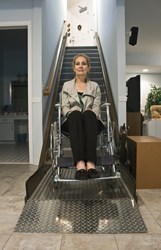 Lewisberry, PA (PRWEB) August 27, 2013
Butler Mobility is a manufacturer of custom residential inclined platform wheelchair lifts. Inclined platform lifts give the user the advantage of not having to transfer from the wheelchair to another mode of transportation to ascend or descend the stairs in their home.
Most wheelchair lifts can be difficult to retrofit into existing homes because they require a wide, straight staircase with clear landings on both ends, and at least one continuous wall in the staircase with no interruptions such as windows or doors. If the home doesn't meet these requirements, it could be difficult to find an inclined platform lift that might easily be installed. When other inclined platform lifts won't work, be assured that Butler Mobility will probably have the solution.
Butler Mobility's inclined wheelchair lift does not need a continuous wall for installation. In fact, there is virtually no modifications needed to the home or staircase to install a Butler lift. Butler lifts are very easy to install. The lift mounts to the upper and lower stairs, and does not require mounting to the wall. The company will custom make each unit, and can accommodate a variety of platform widths and staircase lengths. The unit requires only standard household current and a standard outlet, and all of our electrical components are UL certified.
Butler Mobility lifts are known in the industry as "The Lift that Lasts." The inclined platform lifts are proudly made in the U.S.A. Call toll free at 888-847-0804 or visit http://www.butlermobility.com to learn more.
Media Contact
Pat Small
psmall(at)butermobility(dot)com
Butler Mobility Products