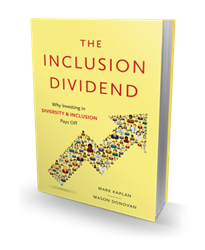 What can business leaders do to foster a more inclusive culture?
Boston, MA (PRWEB) February 12, 2014
Bibliomotion author and D&I expert Mark Kaplan will lead a Senior Executive Roundtable, speaking on "Leadership Perspectives on Diversity & Inclusion in India" at a conference organized by Community Business and hosted by Goldman Sachs. The event will take place on Monday, February 17th from 5:30 – 8 p.m. at the Goldman Sachs premises in Bangalore.
Discussion topics will include:
-How business leaders in India are integrating D&I into their core business strategies
-What impact companies are seeing – particularly in terms of the ROI
-Why the shift to a greater focus on inclusion is critical to leveraging the true value of diversity
-What role business leaders can personally play to foster a more inclusive culture– and what new core leadership competences are required
Mark Kaplan is co-author of The Inclusion Dividend: Why Investing in Diversity & Inclusion Pays Off (Bibliomotion, May 21, 2013).
About The Inclusion Dividend:
In today's increasingly diverse, global, interconnected business world, diversity and inclusion (D&I) is no longer just "the right thing to do," it is a core to leadership competency and central to the success of business. Working effectively across differences such as gender, culture, generation, race, and sexual orientation not only leads to a more productive, innovative corporate culture, but also to better engagement with customers and clients. The Inclusion Dividend provides a framework to tap the bottom line impact that results from an inclusive culture. Most leaders have the intent to be inclusive, but translating that intent into a truly inclusive outcome with employees, customers, and other stakeholders requires a focused change effort. The authors explain that challenge and provide straightforward advice on how to achieve the kind of meritocracy that will result in a tangible dividend and move companies ahead of their competition.
About Mark Kaplan:
Mark was the CEO of MGK Consulting before becoming a principal for The Dagoba Group, a New England based organization development and training firm that specializes in leadership development, diversity and inclusion. He has been consulting since 1986 and has advised organizations in the areas of management development, executive coaching, team building and group dynamics, organizational assessment, and diversity management, assessment, and strategy development. Mark has worked with global Fortune 1000 corporations, non-profits, and small business organizations. He has worked on five continents, in many environments, and with all levels of management. Mark has been published in leading diversity publications, has been a guest speaker at global D&I focused conferences, and is often quoted in international business publications.
Mark earned his Masters in HR Development from Villanova and a Bachelors in Psychology from the University of Florida. He holds many certifications including Organization and Systems Development from the Gestalt Institute.
In between trips, Mark likes spend time cooking and gardening.
More about Bibliomotion, books + media:
Bibliomotion is a book publishing house designed for the new publishing landscape. While many publishers work to retrofit old processes for new realities, Bibliomotion was founded by book-industry veterans who believe the best approach is a fresh one – one that focuses on empowering authors and serving readers above all else. Moving away from the top-down model that has dominated the publishing process for years, we give each member of the team – including the author – a seat at the table from the very beginning and in doing so, work side-by-side to launch and sell the best content possible, making it available in a variety of forms.
There are no sure bets in publishing, but at Bibliomotion we believe there is a winning formula:
Exceptional Content – we select ideas very carefully and offer formats for all types of
Visible Authors – we select authors with many planks on the platform, and coach them to build more
Community Building – we build communities around our authors and ideas, and invite readers in
Good Will and High Touch – a spirit of close collaboration between author and publisher that translates to greater potential for our books
Fun – better be, or it's not worth doing