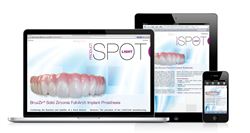 Inclusive prompts its readers to implement the latest advancements in implantology in order to achieve predictable, profitable, reproducible results.
Newport Beach, CA (PRWEB) March 05, 2014
Glidewell Laboratories, industry-leading provider of dental laboratory products and services, announced today that the latest issue of Inclusive™ magazine, its multimedia publication focused on implant dentistry, is now available in print and across multiple digital platforms. The digital edition of the new issue, Volume 4, Issue 4, as well as past issues of the dental laboratory's quarterly magazine, can be viewed from all popular desktop, table and smartphone platforms by visiting http://www.inclusivemagazine.com.
The featured Implant Q&A spotlights Drs. Abraham Ingber and Vincent Prestipino, whose revered partnership has led to groundbreaking and pivotal innovations in the dental industry. Glidewell Laboratories was fortunate to interview Drs. Ingber and Prestipino in May 2013, shortly before the untimely passing of Abe Ingber in August. Read the article, and watch the exclusive video interview to discover what these global thought leaders in implantology have to say about the genesis of their distinguished partnership, the invention of the all-ceramic abutment, screw- vs. cement-retained restorations, provisionalization, and the keys to running a patient-centric dental practice.
The latest issue also features an article by Dr. Jack Hahn in which he details a case where a patient presented with a failing bridge over implants that were placed more than two decades ago. Dr. Hahn, widely considered a pioneer in the field of implant dentistry, faces some unique challenges due to the discontinued state of the implants and restorative components. Ultimately, he delivers a new implant-supported bridge that should preserve the patient's dental function for many years to come, demonstrating the lasting restorative capacity of implant therapy.
Other highlights include a Practice Management article by Texas-based periodontist Dr. Bret Dyer that discusses the surge of incoming referrals he has encountered since adopting the Inclusive® Tooth Replacement System, which has benefitted his practice by simplifying treatment for both the specialist and the restorative dentist. An article by Michigan-based implantologist Dr. Timothy Kosinski outlines a case where sequential treatment planning and implant-supported dentures are utilized to treat a patient with deteriorating dental health and urgent esthetic needs. Shedding light on the latest technological advancement for edentulous patients, the Product Spotlight and How It's Made columns showcase the BruxZir® Full-Arch Implant Prosthesis, which offers a fixed, exceptionally durable alternative to acrylic dentures.
After reading the articles, viewing the case photos and watching the videos, readers have the opportunity to take free interactive continuing education (CE) tests through the Glidewell Education Center. Participants can earn free CE credits through the Academy of General Dentistry (AGD) Program Approval for Continuing Education (PACE) program for each test they complete and pass.
Inclusive magazine is published by Glidewell Laboratories and President/CEO Jim Glidewell, CDT. Each issue of Inclusive seeks to highlight the many aspects of dental implants from clinical and laboratory perspectives. Featuring case studies, clinical tips and techniques, and practice management tools in both article and video format, Inclusive prompts its readers to implement the latest advancements in implantology in order to achieve predictable, profitable, reproducible results.
To view the new Inclusive magazine digital edition from your desktop computer or favorite mobile device and to sign up for a free subscription to the print version, visit http://www.inclusivemagazine.com. For more information about Inclusive magazine, call 800-521-0576 or e-mail inclusivemagazine(at)glidewelldental(dot)com.